David Blázquez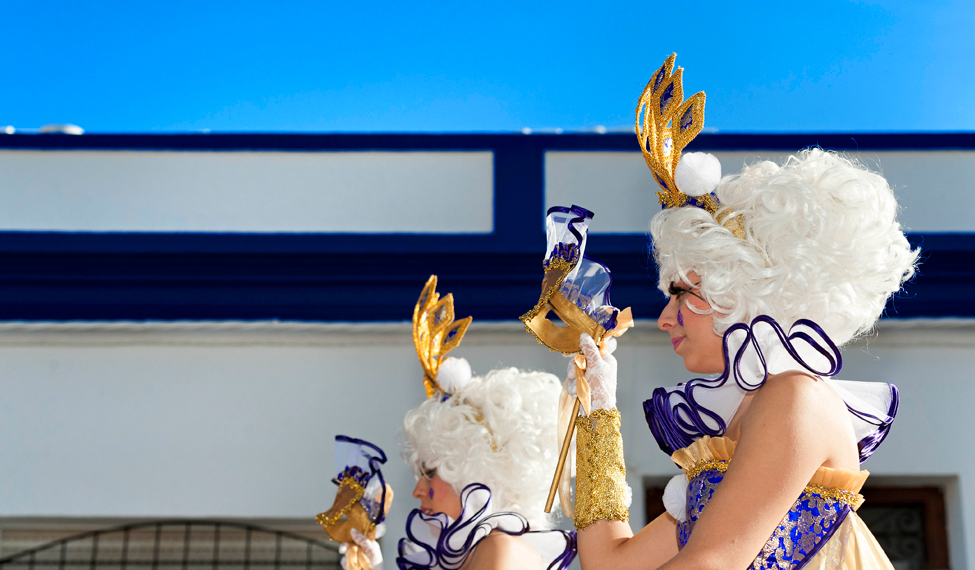 Description of the party
Festival of National Touristic Interest
Day and night, celebrating and gathering at the table. Without end. Herencia has always been characterized for its deeply-rooted traditions, among which Carnival occupies an important place. So much so that they move it a week ahead of all the others. Which is why they call its start date Sábado de los Ansiosos (Saturday of the Anxious). The next day,Domingo de las Deseosas (Sunday of the Eager), is also an important day: they take out their masks and costumes anew to show them off in the parades. This day's name comes from the"deseo"(desire) of the people who wait impatiently for the moment to put on their costumes and begin the carnival, given that, officially, carnival starts the following Friday.
Possibly the most important act of the Carnival of Herencia is the Ofertorio de Ánimas (offering of the souls) which is celebrated on the Tuesday of Carnival. In this parade we can see floats, giants and big heads, bands of music, those making offerings, and Carnival masks, among which the traditional figure of "Perlé" is highlighted, who is in charge of maintaining the order as the act is underway. The figure is portrayed by a man dressed with a baggy blouse, multi-colored striped cloth pants, like pajamas, and on his head a child's cap of the same cloth, who weaves through the people, mixing with the masks and surprising the kids, who at the same time insult him and try to play jokes on him.
Also of importance are the "jinetas".These groups once paraded in order to fulfill a personal or familial promise, but now the act is promoted by the city council and they represent the various local workers' guilds: construction, farmers, bakers, merchants, etc. Each of these groups is formed by children dressed in the attire of the region or the era, accompanied by an adult who carries the offering.
The masked Street Walker, covered head to toe, and saying to everyone: don't you know me? And all the citizens spontaneously coming out into the streets, costumed, and organizing parades in every corner.
SUGGESTIONS:
Carry peanuts on Tuesday, to join thePuñao, indiscriminately doling them outa puñados(by the hanful). And regain your strength with therosca utrera(cake mainly made out of honey, eggs, lemon and orange), flagship product within th cuisine of Herencia, together withgachas de titos(fried flour with paprika, bacon and chorizo),migas gañanas(traditional Spanish dish made of bread crumbs with meat, grapes and green peppers),pisto manchego(similar to ratatouille), lamb stew, orajo pastoral(a way to cook meat with garlic, wine, onion, flour, paprika,…).
Gallery
herenciacarnaval2
herenciacarnaval
Carnaval de Herencia
Carnaval de Herencia /David Carrero Fernández-Baillo
Carnaval de Herencia /David Carrero Fernández-Baillo
mas