Dancers and salt and sawdust carpets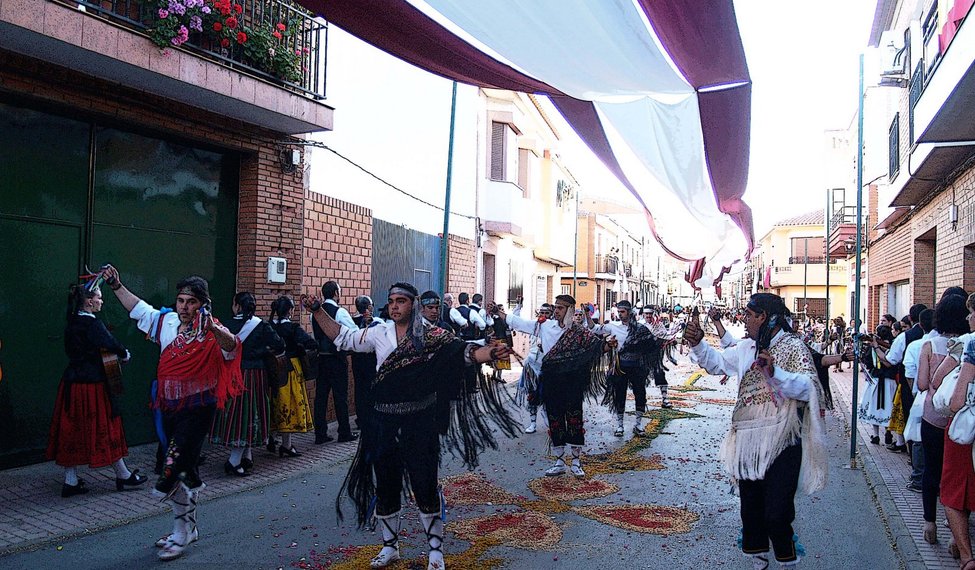 Description of the party
Two elements are especially significant in Porzuna Corpus, along with its spiffed-up streets. And these are the dancers, who symbolize the opening of the path for the Custodia, and also the carpets made out of dyed salt and sawdust, with really beautiful shapes which will be destroyed when the procession goes through.
The twelve dancers are accompanied, on Sunday morning, by guitar, lute, bandurria and castanet street bands, as well as horsemen with their richly harnessed saddles. The canticle called "Los Buenos Días" (good morning) and the local Porzuna fandango, stand out. Likewise the typical local clothing, which includes Manila shawls and rich embroideries, laces and sequins.
In the afternoon the procession takes place at 19:30 h., after the mass. The boys and the girls who received First Communion lead the retinue, and throw petals when the Custodia passes by. After them, twelve dancers dance four abreast to the tune of the band and playing the castanets, paying homage to the Holy Host, which it carried under a six-shaft canopy.
Recurrently, the retinue stops at every altar made by the locals, adorned with aromatic plants and capes with rich laces, likewise embroidered cushions.
Festivity of Regional Tourist Interest
DATE OF CELEBRATION:
On the date set for Corpus Christi, changing every year.
SUGGESTIONS:
The procession lasts for 2 hours and runs along 2 kilometers around the streets of the village, stopping at every altar. It starts at Ciudad Real street, goes along Escuelas, Toledo, Real, San Pantaleón and Caballero streets, to come back then to the church. It is important to take a place beforehand at these places to watch the dancers pass by.
Gallery
Corpus Christi de Porzuna - 1
Corpus Christi de Porzuna- 2
Corpus Christi de Porzuna- 3
Corpus Christi de Porzuna- 4
Corpus Christi de Porzuna- 5
mas