To the Virgin by carriage
José María Moreno García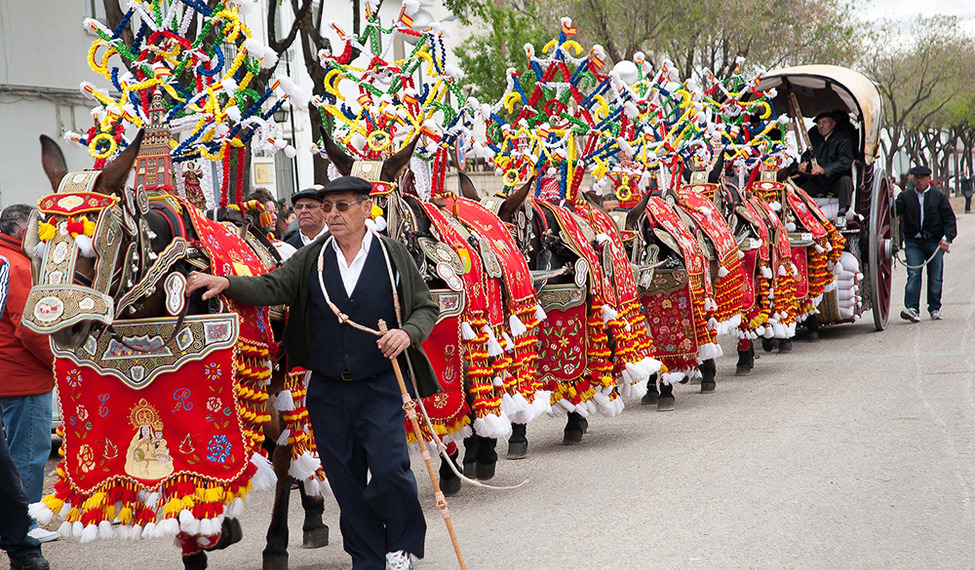 Description of the party
The most spectacular feature of this pilgrimage in Tomelloso is its carriages "in green". Peculiar because they mix the tradition of carriages pulled by mules, which still parade with modern tractors drawing their trailers. The backsides of the mules are shaved to form phrases and drawings, their tails braided with colored ribbons and their foreheads adorned with all kinds of ornaments, to pull the traditional carriage from Tomelloso. The trailers, totally covered with green branches or loaded with grapevines artistically arranged until they form a pile. Each and everyone go on pilgrimage to the "Pinilla" spot, located 4 kilometers away from Tomelloso, where Viñas Virgin shrine is. After lunch, they go back with the image on their shoulders to España square. And finally, to celebrate their Patron saint, folk dances are performed.
Festivity of Regional Tourist Interest
DATE OF CELEBRATION:
Last weekend in April.
SUGGESTIONS:
Celebration days are two, Saturday and Sunday. On Saturday the pilgrimage leaves from Tomelloso, and locals meet around the Shrine, playing traditional games and tractor skill contests, among others. At night it is worth to go the Torch Procession around the temple. On Sunday the mass in honor of the Virgin is said, outdoor lunch and at 5 in the afternoon they take back the image, on pilgrimage to Tomelloso.
Gallery
Romería de la Virgen de las Viñas 1
Romería de la Virgen de las Viñas 2
Romería de la Virgen de las Viñas 3
Romería de la Virgen de las Viñas 4
Romería de la Virgen de las Viñas 5
Romería de la Virgen de las Viñas 6
Romería de la Virgen de las Viñas 7
Romería de la Virgen de las Viñas 8
mas