Pilgrimage to the bullring virgin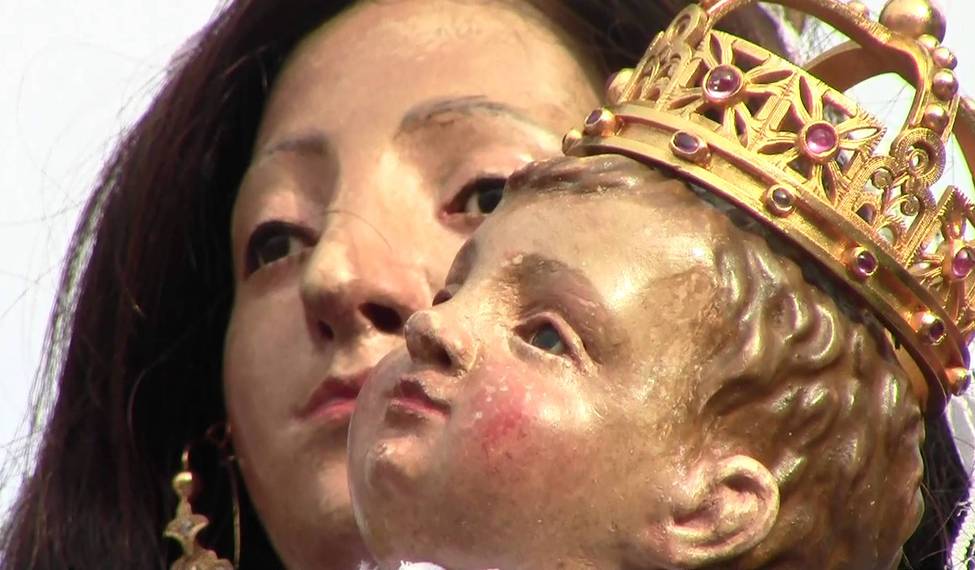 Description of the party
On September 1st, the Virgen de las Virtudes (Our Lady of Virtues) is taken from her shrine to Santa Cruz de Mudela. It is the beginning of the septenary, the seven-day period in which she will be worshiped. On September 7th, a procession is held around the village streets, from Asunción church to Constitución square, where she bid the town hall farewell. Already prepared for her pilgrimage on the main day.
The pilgrimage on September 8thstarts with a mass at dawn, and has one of its milestones at Humilladeroheights, after 7 kilometers walking. There, the image is put on a shrine with 7 columns, to sing and dance jotas and seguidillas from La Mancha for her. She is then taken to her shrine, one of the most unique as it is located in a rectangular bullring, which has this shape because it is amongst the oldest in Spain. The image is taken by the pilgrims walking over pipeclay, making her triumphant entrance on their shoulders. Afterwards, a bullfighting event in the afternoon.
Festivity of Regional Tourist Interest
DATE OF CELEBRATION:
On September 8th.
SUGGESTIONS:
There are two milestones that you should not miss during this pilgrimage. One is Asunción church in Santa Cruz de Mudela, and the other one is the Shrine-Bullring of Virtudes Virgin. In the first one, its Mudejar tower reaches 46 meters in height. The shrine is from the 14thcentury, and has its origin on the apparition of the Virgin to a Sheppard at this place in 1330.
Gallery
Romeria Nuestra Señora de las Virtudes11
Romería de Nuestra Señora de las Virtudes2
Romería de Nuestra Señora de las Virtudes3
Romería de Nuestra Señora de las Virtudes4
Romería de Nuestra Señora de las Virtudes5
Romería de Nuestra Señora de las Virtudes6
Romería de Nuestra Señora de las Virtudes7
mas