Las Rejas: Stellar Flavor of La Mancha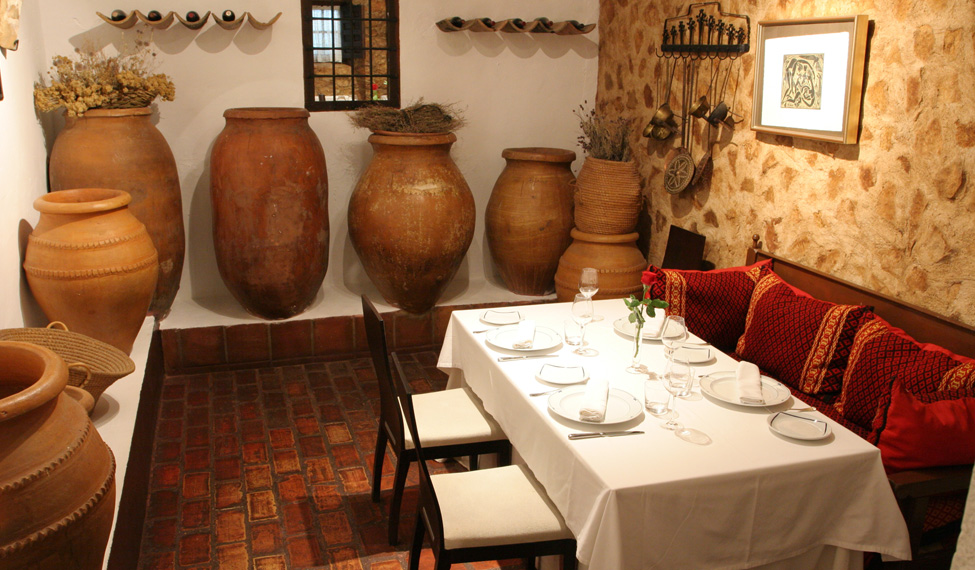 Gastronomic visit
CHEF MANUEL DE LA OSA, ONE MICHELIN STAR
Manuel de la Osa sets out, in general as well as each day itself, a good traditional meal to lavish upon his customers and compel them to return. His meals combine, together with good taste, good ingredients with the best expertise: Cuenca, La Mancha, tradition, modernity… between the jingling of the utensils and the agreeable conversation of the diners. To eat as one does at home… as in the home of the women of his family where he learned until achieving his current place in Spanish gastronomy. 
LAS REJAS
RestaurantLas Rejas,inLas Pedroñeras, offers traditional Manchegan cuisine modernized and well presented, best served and unequally prepared on the stoves of this restaurant since 1985. In its already brilliant career it shines with one star from the Michelin Guide which gives light to its many other acknowledgements: Restauranteur Prize of Castile-La Mancha, Medal of Touristic Merit of Castile-La Mancha 2002 and 2005 in the Gastronomic Techniques Concourses, various awards as Chef of the year at the national level.
His dishes: the mainstays, with a new look, that of this culinary artist. La Mancha presents itself at his tables through theatascaburras(traditional cod and potato purée),ajoarriero ahumado(smoked traditional garlic dish),los galianos(Manchegan stew),sopa de ajo(garlic soup),loma de orza(earthenware cooked pork loin), fresh vegetables, cheeses and herbs,pisto(ratatouille),quesadilla manchega, andguiso de tripas de bacalao(cod belly stew).
ADDRESS AND OPENING HOURS
Open midday from Tuesday to Sunday and evenings on Thursday, Friday, and Saturday. Monday and other evenings closed. Vacations second half of June.
General Borreros, 49
Las Pedroñeras (Cuenca)
967 161 089
General Borreros 49
Las Pedroñeras (Cuenca)
967 161 089
info@manueldelaosa.com
Gallery
Restaurante Las Rejas - Ajoarriero con ajo negro, setas y espinacas
Restaurante Las Rejas - Foei con taninos de vino tinto
Restaurante Las Rejas - Manuel de la Osa
Restaurante Las Rejas - Ostra con escabeche de perdiz azafranado
Restaurante Las Rejas - Piñonada
Restaurante Las Rejas - Sopa de ajo fría
Restaurante Las Rejas - Trufa de perdiz
Restaurante Las Rejas
mas