The spectacular Canyon of Guadiela river in Serranía de Cuenca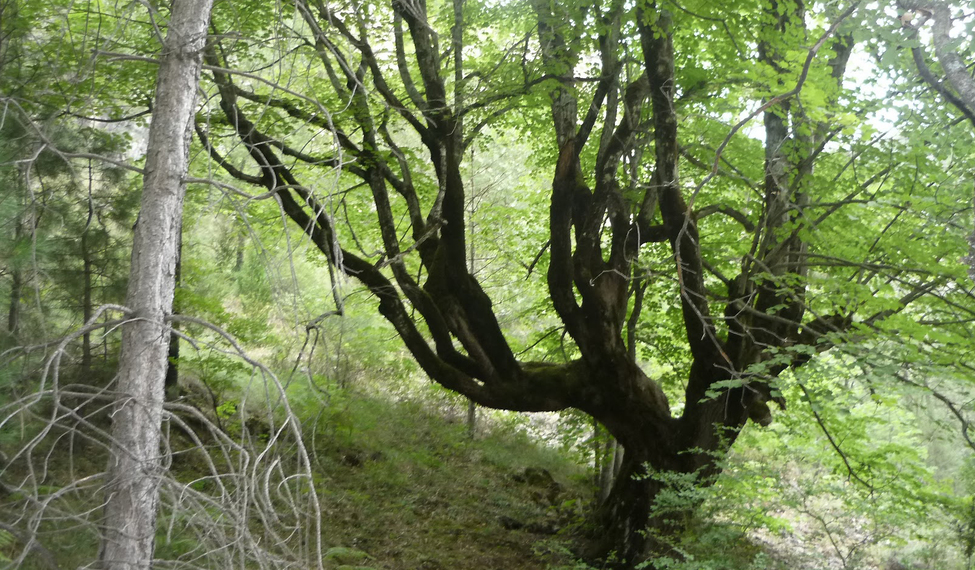 Visit
MAIN ATTRACTIONS
Six kilometres of cliffs with more than 80 meters in height, excavated in the rock by Guadiela river. A place that allows us to enjoy breathtaking scenery and all kinds of outdoor activities, from hiking to exciting fun in the waters of the Guadiela.
WHAT WE'LL SEE
Following the course of the river, you can distinguish three well differentiated zones according to geomorphological structures and materials. First of all, the limestones and sinkholes from the late Jurassic Era, with pleated aspect and with clayey material. A good place to observe these formations is the area of the dam of Librerías. If you continue downstream, you will find materials from the Cretaceous Era, where there are vertical walls that sometimes exceed the 200 m. high. Finally, the river passes through an area of materials from the Jurassic Era with a striking which you can admire from a few metres from Toba House. It has also other Karst elements typical of the evolution of sheds, such as landslides from large rocks, waterfalls, travertine, meanders, upwelling and cavities. The most important travertine you can see is located in the area of Toba House, excavated in the same rock. This travertine is related to an old backup of Guadiela river. Another remarkable element for its uniqueness and beauty inside the Natural Monument is the Sumidero de Mata Asnos, located about 3 km. to the West of Hoz. It's a sink –cavity that collects the waters of a small stream– which runs over 4 km until it reaches its output in the vicinity of Toba House.
You can walk through one of the last vegetal endemic species, which rare and threatened, like the forests of hazelnut trees and lime trees, or the carnivorous plant Pinguicola mundi, exclusive species from the Iberian Peninsula. In the river you can discover the privileged habitat of eight endangered species of birds: The Egyptian vulture, short-toed eagle, common kingfisher, Eurasian eagle-owl , dipper, northern goshawk, hobby, and griffon vultures.
PATHS
There are two marked trails and the possibility of guided tours for educational institutions and non-profit associations.
EL PASEO BOTÁNCO: it's a signed path that starts from Casa de la Pradera, although you can also do it from Fuente de los Tilos. It is a 2.6 km path for hiking, with a zero slope and very low difficulty, suitable for all ages and any time of the year, although as it is a botanical trail, it is more appropriate for spring.
LA CUEVA DEL ARMENTERO: 1.6 km lineal path that begins in the vicinity of Fuente de los Tilos. Along the route you can visit the dam of los Tilos, La Ramera cave and Armentero cave, the last stretch of the trail has a strong slope.
In addition, there are parking lots and leisure areas: La Fuente de los Tilos and La Casa de la Pradera with drinking fountains and tables.
ACCESS
Located in the North of the province of Cuenca, between Las Muelas de Carrascosa y del Palancar or San Cristóbal. From Cuenca, you can take the exit towards Guadalajara by CU-11, then take the road direction Chillarón de Cuenca N320, continue on this road to Villar de Domingo García; then, take the CM-210 which continues until you reach the Fuente de los Tilos leisure area located approximately 2 km away from Puente Vadillos.
MOST SUITABLE VISIT TIME, WHAT TO TAKE
A perfect place to enjoy throughout the year. It's advisable to take a camera with zoom lens to photograph birds and swimsuit in summer to enjoy the river.
Gallery
Hoz de Beteta y Sumidero de Mata Asnos
Hoz de Beteta y Sumidero de Mata Asnos
Hoz de Beteta y Sumidero de Mata Asnos
mas