A spectacular landscape with unique fauna and flora
David Blázquez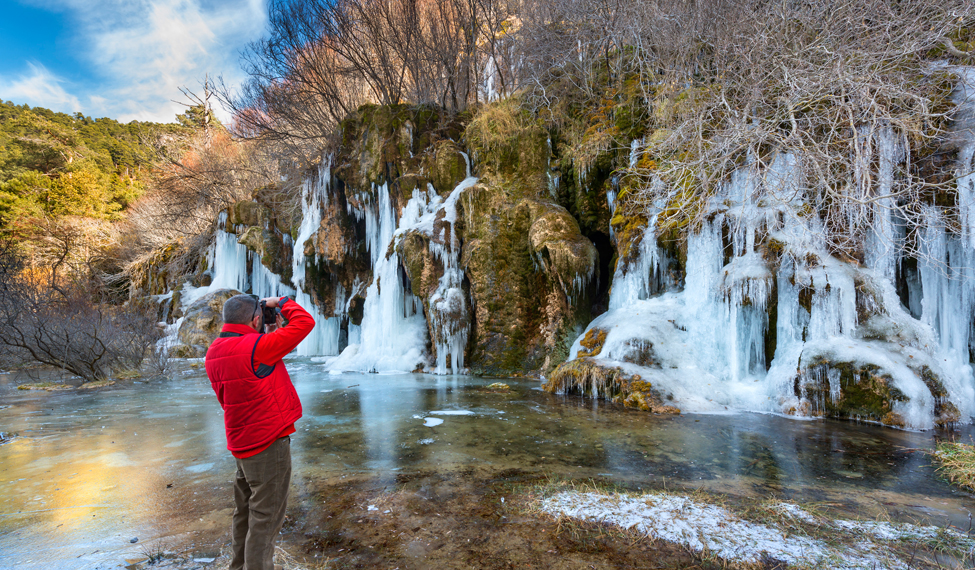 Visit
MAIN ATTRACTIONS
Although the most visited and well-known area of the Natural Monument is the spring of Río Cuervo and its beautiful waterfalls, there are other notable areas and elements of great relevance and beauty, such as Rincón del Cuervo. Likewise, the high altitude and abundance of rainfall in the area allow the presence of fauna and flora species that do not exist in other parts of Castilla-La Mancha.
WHAT WE'LL SEE
In our visit, we can see an important community of birds, linked to the forest ecosystem (Eurasian sparrow hawk, northern goshawk, short-toed eagle etc.) and the river banks (grey wagtail, dipper etc.); also numerous mammals like the red squirrel, Miller's water shrew and wildcat, among others. An appreciable conservation value has been recognized for troglodyte fauna (bats) and butterflies, and a number of protected species may be found: Graellsia isabellae, Parnasius apollo, Erebia zapateri... On the other hand, the waters of the river constitute a reservoir of fauna linked to its waters such as trout, dragonflies, molluscs, etc. As for the vegetation, it stands out the pine forests next to which, in the most exposed areas, the savin juniper appears. There are also important  Eurosiberian forests with holly, linden and maples; rocky communities and wet meadows. Although its greatest floristic richness is the community of orchids, with at least 19 species.
ACCESS
Free access.
Accessible for disabled people until the waterfalls, located about 300 metres away from the start.
- From Cuenca: CM-2104 or CM-2105, and CM-2106.
- From Valdemeca and Beteta: CM-2106.
- From Teruel: CM-2119.
ROUTES INSIDE THE NATURAL MONUMENT
Inside the Monument there are three itineraries:

-Sendero del Nacimiento del Río Cuervo: circular route of 1.5 km approximately that allows to visit the waterfalls and the source. The route to the waterfalls is accessible for disabled people.

-Sendero de la Turbera: begins about 150 metres before the source of the river and continues about 1,500 metres crossing a calcareous peat bog and ending in the parking lot, starting point of the trails.

-Sendero del Pinar: marked route of 11 km which is accessed via Sendero de la Turbera. It allows taking a tour through the pine forest and allows enjoying panoramic views.
In the surroundings of the Monument there is a network of trails of Serranía de Cuenca Natural Park that contains 11 routes suitable for hiking and environmental education. All of them are signposted and have different levels of difficulty.
CENTRO DE INTERPRETACIÓN CASA DE LA HERRERÍA
In the municipality of Vega del Codorno (Barrio del Perchel s/n) we find the Observation Centre of Cuervo River Spring "Casa de la Herrería" (access adapted for the disabled). 
Usually it stays open during weekends and mid- and high season. In summer, the opening days are usually extended. Please contact us by phone or by email if you want confirmation:
(+34) 969 179 759 – (+34) 969 178 359
MOST SUITABLE VISIT TIME. WHAT TO TAKE
Any time of year is good to visit this protected area but, during winter, low temperatures are reached, so it is advisable to go properly equipped. It is advisable to wear suitable footwear throughout the year.
More information: Folleto Monumento Natural Nacimiento del Río Cuervo (brochure about the Monument)
Gallery
Nacimiento del río Cuervo
Nacimiento del río Cuervo
Nacimiento del río Cuervo
Nacimiento del río Cuervo
Nacimiento del río Cuervo
Nacimiento del río Cuervo
Nacimiento del río Cuervo
Nacimiento del río Cuervo
Nacimiento del río Cuervo
Nacimiento del río Cuervo
mas