Spectacular volcanic pipe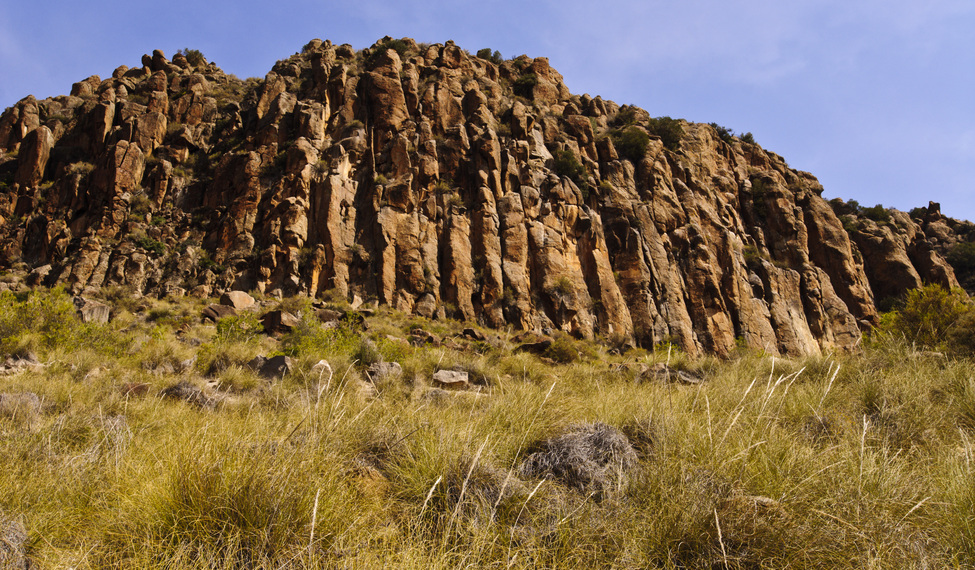 Visit
MAIN ATTRACTIONS
Cancarix is the only volcano in the Iberian peninsula whose pipe has been exposed by erosion. This creates an scenery for walking, enjoying the flight of cocks-of-the-rock birds, that usually live in the nearly inaccessible cliffs.
WHAT WE'LL SEE
It is the ideal place to organise hiking trails to the summit and enjoy spectacular landscapes for three hours. During the tour, you will be surrounded by endangered plant species and fauna that only inhabit in arid areas, which do not exist in other parts of the region.
The different species of animals are adapted to the arid conditions and high temperatures in the area. The community of mammals is represented by the rabbit, and in lesser extent, the hare, hedgehog, the dormouse and the wild boar. The community of birds is represented mainly by the chough and the Eurasian eagle-owl, species that breed here. On the slopes, you can see little owls, black-eared wheatear, black wheatear, red-legged partridge and the crested lark. Related to reptiles, we can highlight the presence of the Montpellier snake, ladder snake and the ocellated lizard.
ROUTES
In Pitón Volcánico de Cancarix Natural Monument, there are two geological routes where, through informative stops, geomorphological values of the space can be observed, going to the two volcanic outcrops and knowing its origin, structure and typical forms.
ROUTE 1: leads from the observatory panel to the secondary upwelling or lateral vent of the volcano. 700 metres long, low difficulty and approximate duration of 30 minutes.
ROUTE 2: runs through the South-East slope of the main volcanic body, climbing a  moderate slope until you reach an old quarry of volcanic rocks. Medium difficulty, it has a length of 4 km, average time 2 h. During the tour, you can know the origin, structure and petrological composition of the volcano through four observation stops, as well as enjoy amazing views over the surrounding plains.
ACCESS
Free access. Circulating along the A-30 highway, which connects Murcia and once past km.328, take the exit 75 to follow by road CM-9320, from Agramon to Jumilla, towards Agramon. After 1.5 km you will reach the information board of Pitón Volcánico de Cancarix Natural Monument. Information at the tourist office in Hellín (+34 967541500).
MOST SUITABLE VISIT TIME, WHAT TO TAKE
You will never be cold. In Cancarix there are always good temperatures. Conformatable clothing and footwear and water.