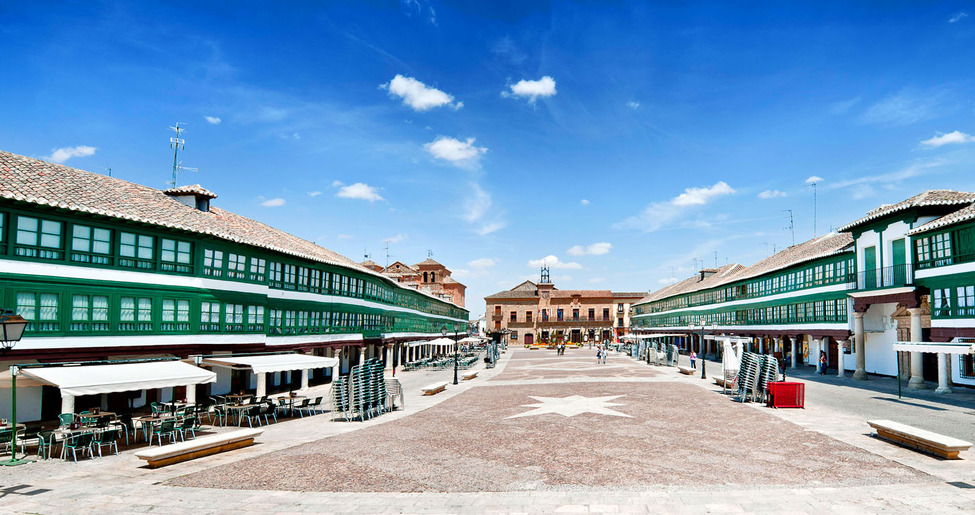 Visit
Almagro, in Campo de Calatrava, in the very centre of the region, enjoys a strategic location in both its physical and cultural surroundings. The open-air theatre city houses the only open-air comedy theatre that has been kept intact and in use since the beginning of the 17th century until present day, and it is that which is largely the insignia of the city. It maintains all of its sections: foyer, lodgings, patio, clay pot, galleys and stage, as well as an intense industry which makes the city grow, especially during the International Classical Theatre Festival.
However, despite its importance, Almagro isn't just its open-air comedy theatre or the industry that derives from it. The city, declared aconjunto histórico artístico, envelops us in culture, art, tradition and Castilian zest. A walk through its streets will grant us the pleasure of each of its corners, opening our eyes and we won't know where to look.
The Plaza Mayor square, large and formidable, stands out due to its porticos sloped behind the Tuscan stone columns which support roofed galleries that are unique.
The various religious buildings: The Encarnación convent, the church of Madre de Dios, the convent of Santa Catalina, the church of San Bartolomé etc. complete the visitor's artistic spirit that will embark on a journey through styles and works of different yet unique beauty.
Civil works, features on the façades, urban ensembles and the actual layout of the town, work together to seduce use amongst countless pleasures with paths, relaxation, activities and admiration which will make us feel comforted along our visit and nostalgic when we have to leave. Walking through the streets of Almagro means an invitation to submerge ourselves in its past, in the legend of the warrior monks and knights, in the grandeur of its churches and convents, or in the perfect design of its noble neighbourhood.
HOW TO GET THERE
CM-412  CM-414
Gallery
Almagro
Almagro
Almagro
Almagro
mas