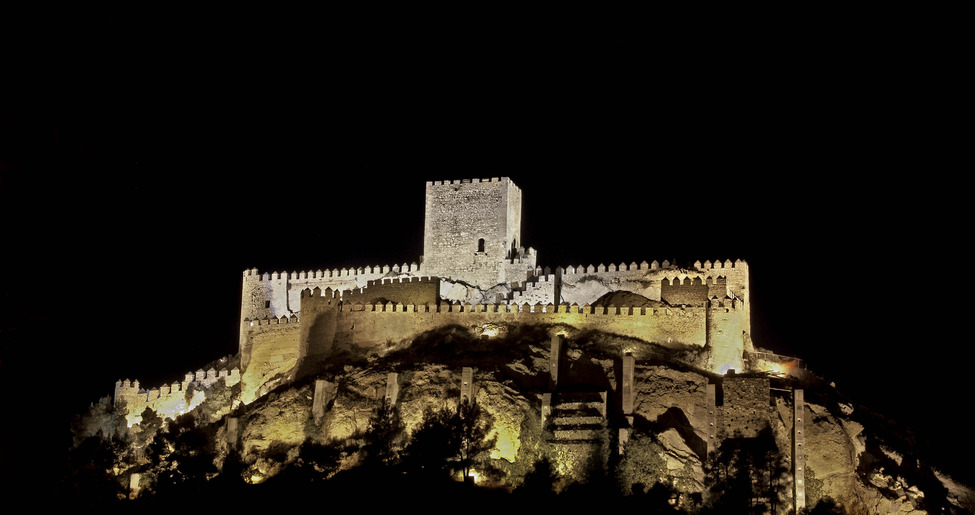 Visit
From on the Almansa plateau, the rock and on top of it the castle, starts the narrative and the visit...  The castle on the Águila hill is the most representative of Castile-La Mancha. It is made up of three areas plus that of the Barbican which protects the entrance. It is defended by semi-circular towers and sections crowned by battlements with pyramid-shaped merlons. In the area above, the square tower is erected to watch over the flatland and the village.
Around it, the streets surround the rock and pay respect to the castle's presidency. Amongst its arterial stone roads, the other monuments surrender to the visitor's discovery, proud of their treasures. The Grande house or the palace of the Condes Cirat, the current town hall, with its Mannerist façade and an interior patio on a square floor plan with three archways and shields on the spandrels.
The convent of the Agustinas del Corpus Christi displays a simple doorway with a rectangular bay framed by Solomonic columns. The Nuestra Señora de la Asunción church is a noble mix of styles; Neoclassic, Renaissance and Gothic. The San Francisco convent is a great expression of Baroque art. Other areas of interest are the old Neoclassical town hall, the Carlos IV bridge in the west of the city, el Cuco de los Graganchines...etc
On the outskirts we find the Great Tower, an old labour house which takes its name from its imposing square tower, three floors and basement. The Nuestra Señora de Belén temple with a beautiful Baroque chapel. The San Blas Chapel with its Levantine-style dome.
Amongst the natural settings there is the Cuchillo hill and its archaeological site, the reservoir and the set of water mills.
HOW TO GET THERE
A-31
Gallery
Almansa
Almansa
Almansa
Almansa
Almansa
Almansa
mas