Giants and windmills: a fight for the wind
David Blázquez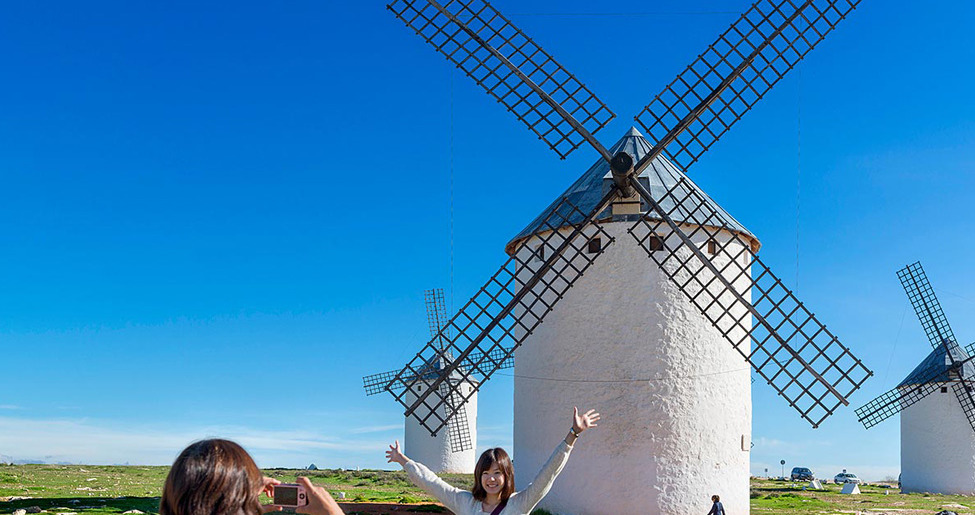 Visit
MAIN ATTRACTIONS
"Meanwhile they discovered 30 or 40 windmills which are in that Land (Campo)…" El Campo de Criptana. Cervantes started in that way the eighth chapter of Don Quixote, who thought they were giants and he had to fight against them. Immortalized in literature, this magnificent place of industrial heritage and Heritage of Cultural Interest displays on the plateau the power of its appearance, what makes us confuse them with this literary image.
They are tower windmills, built in masonry and whitened with lime. It is a circular building with small windows, which are a guide for the wind direction, which indicated towards where the conical roof should rotate, in order for its blades to make use of the wind at their convenience. There are tree floors: the upper floor with the millstones and the ground floors, to store and pack.
WHAT WE'LL SEE
The windmills' blades shade our visit in the suntraps of Castile La Mancha. The old windmills, Sardinero, Burleta e Infanto, sovereign of time and tales, date back to the 16th century, and conserve their original mechanism that starts working on Saturdays in order not to forget its task of moving the air. The modern ones, enormous young mills from 1900,  have different uses that provide content to their interior: the Inca Garcilaso, Museo de Labranza (tillage museum); the Cariarí, D. Enrique Alarcón museum, the Vicente Huidobro museo about himself; the Pilón, Wine musem; the Lagarto, Poetry museum; the Culebro, Sara Montiel's museum; and the Poyatos, the Tourist Office.
ACCESS
N-420 (road), N-IV
Gallery
Campo de Criptana
Campo de Criptana
Gigantes y molinos una lucha por el viento
Campo de Criptana
Campo de Criptana
mas