David Blázquez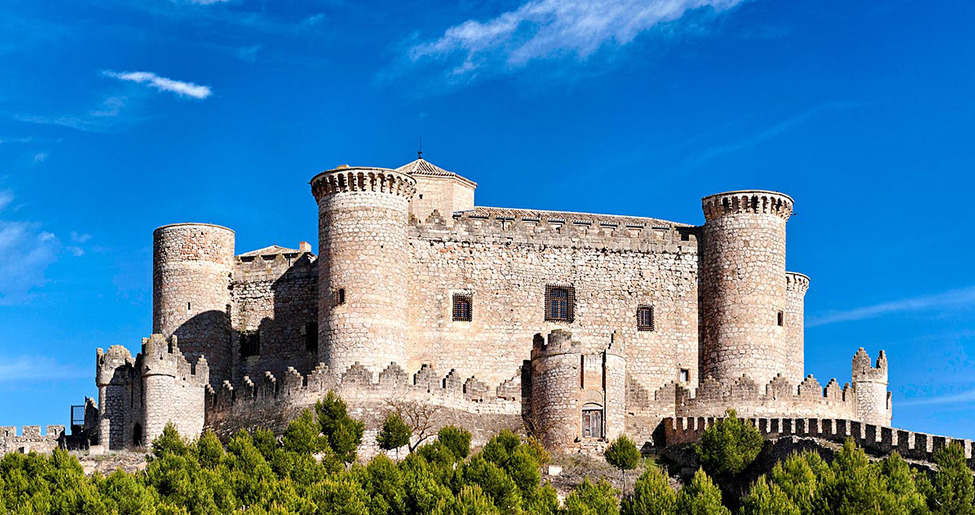 Visit
MAIN ATTRACTIONS
It is a restored castle, converted into a museum and a place to celebrate events, which allows us to visit it profoundly, appreciating its Renaissance origins and the restorations of the 19th century, taken upon by Eugenia de Montijo, Empress of France.
HISTORY AND DESCRIPTION
The exterior part of the castle, which is enclosed in a pentagonal shape, joins together with the walls that descend to the town of Belmonte. At the entry gate we find a gothic facade. The ground floor of the castle is very peculiar, dominated by a"tortured structure", constructed upon an equilateral triangle with two bodies on its two sides, and on the third, the tower keep; a triangle which, by means of the exterior barrier is converted into a nine-sided polygon with small towers at its vertices.
In the interior they have preserved rooms, galleries, the church, and various arches. Some of these elements are original and some form part of the restorations from the 19th century, in a Neo-gothic style.
It's unique floor plan and palatial interior, decorated with luxurious mudejar ceilings in its great rooms and galleries make this castle one of the most emblematic of Spain.
The current structure was begun on top of a medieval fortress in 1465, belonging since then to the same family. One of the owners, Eugenia de Montijo, became Empress of France when she married Napoleon III. The countess ordered a series of reforms that have left a French air about them in the castle.
ACCESS
Private castle.
Hours, contact and reservations online at: http://castillodebelmonte.com/contacto/
Telephone: 678 64 64 86
FUN FACTS
In May or June they hold events that recreate the history of the castle, in which one can see the medieval military life in all its facets. They also conduct National and International medieval combat tournaments, a spectacular contact sport with weapons and armor of the times.
Gallery
Castillo de Belmonte
Castillo de Belmonte
Castillo de Belmonte
Castillo de Belmonte
Castillo de Belmonte
Castillo de Belmonte
Castillo de Belmonte
Castillo de Belmonte
Castillo de Belmonte
Castillo de Belmonte
Castillo de Belmonte
Castillo de Belmonte
Castillo de Belmonte
mas