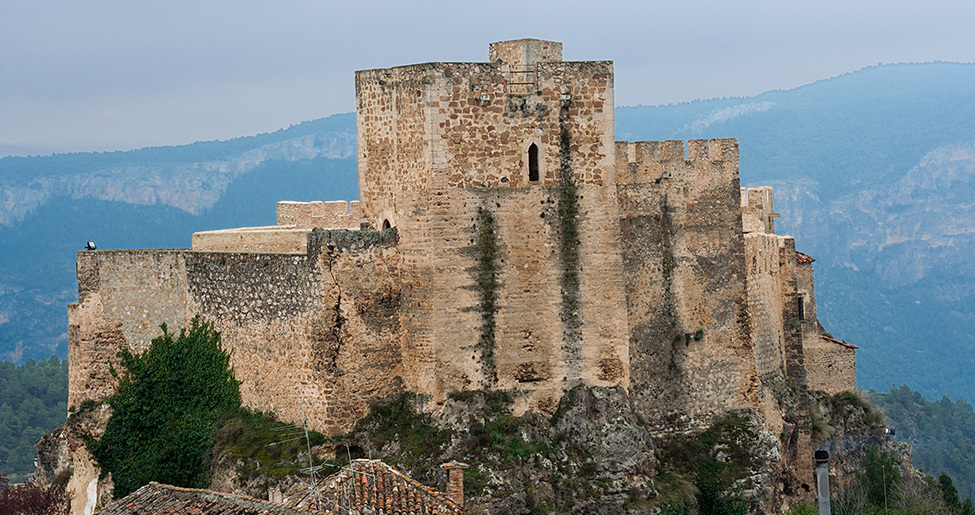 Visit
MAIN ATTRACTIONS
A monumental castle of Andalusian origins, gothic by its subsequent transformations, with a view that can't be missed for those who want to see how the Muslims organized their cities in relation to a fortress, and its evolution to a palatial residence with the Christians. 
HISTORY AND DESCRIPTION
The castle, restored and in an exceptional state of conservation, has in its parade grounds the Centro de Interpretación Medieval "Tierra de la Frontera" (Center of Medieval Interpretation "Border Lands"), which allows an attractive tour through medieval history by way of their seven rooms: the Room of the Order of Saint James, Room of Watchtowers, Room of Urbanism, Room of Weaponry, Room of Nature and repopulation, Muslim Room, and Audiovisual Room where they show the documentary "Life on the Border". A project born and brought to life by the Cultural Association of Pilgrims of Saint Bartholomew and especially under the direction and coordination of Luis Llopis. And in the ancient dungeons we find an Ethnological Museum.
The Arabs made Yeste the most important fortress of the Sierra del Segura. To its rectangular tower, from the 13th century, a wall was added to contain the town, which grew under its shelter. The parade grounds, with columns and a double gallery - the smaller one in gothic style, the bigger in wood, reminds us of porticoed main squares. On the gate to the main tower we will find the heraldic shields of the Order of Saint James and the Figueroa family.
ACCESS
You can get the entry ticket at the Tourism Office of Yeste for 3€. Open Monday through Sunday, from 10:30 to 14:00 and 17:00 to 19:30. You can ask for guided visits to the castle, church and convent for groups and individuals, from Monday to Sunday, at telephone 967 43 11 54. The cost of the guided visit to the castle is 4€ (entry to castle included).
FUN FACTS
The territories of Yeste were defended by the Encomienda Santiaguista of Yeste and Taibilla, owners of the Yeste and Taibilla castles, the first being the knight commander's residence and the second a strong military bastion against the Muslims. Together with them, they made up more than fifteen watchtowers dispersed through all the territory.

Due to its well preserved condition, throughout the year there are a multitude of cultural events in the Parade Grounds of the castle, such as concerts, exhibits, civil weddings, lectures, and especially the Historic Days in April and the Fair of Popular Traditions, declared a Festival of Regional Touristic Interest, in October.