One of the most attractive towns of the Cuenca Sierra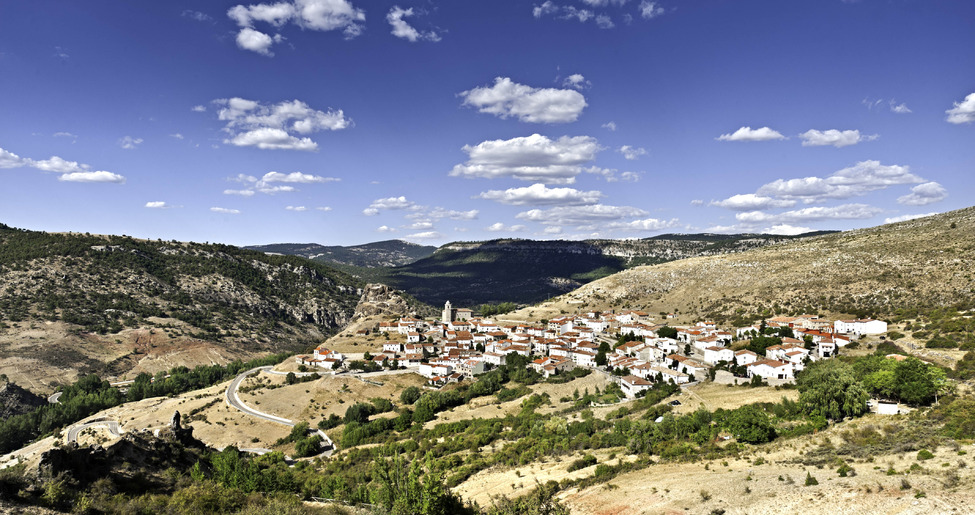 Visit
MAIN ATTRACTIONS
It is found in the High Sierra of Cuenca, 62 km from the capital. The hamlet extends along the slope of a steep hill with some marvelous views of the Júcar valley and in the vicinity of the Park of the Sierras of Cuenca. Before arriving at the town, we can photograph it from afar to get a beautiful panoramic of its very characteristic urban ensemble.
WHAT WE'LL SEE
Its hoses, whitened by limestone and reddish roofs, stand out against the green landscape of pine trees and the brown of the mountains. Adapting itself to the topography of its enclave, the streets are on different levels. There are three main streets, almost parallel, and they connect with each other thanks to stairways and alleys. Some open up to charming plazas, embellished with the murmur of the fountains' waters. We can appreciate the traditional mountain architecture of the houses and their iron bar workings, which make the whole ensemble of the town a magnificent postcard picture for those who visit it.
ACCESS
Open access.
OUR RECOMMENDATIONS
At the foot of what remains of the old castle of Moorish origins, we find a permanent bullring, which testifies to the profound taurine traditions of Huélamo. In fact, during their festivals in honor of the Virgin of the Rosary, a bullfight with young bulls is celebrated. 
Gallery
Huélamo
Huélamo
Huélamo
Huélamo
Huélamo
Huélamo
Huélamo
Huélamo
Huélamo
mas