The village that brought the bridge
David Blázquez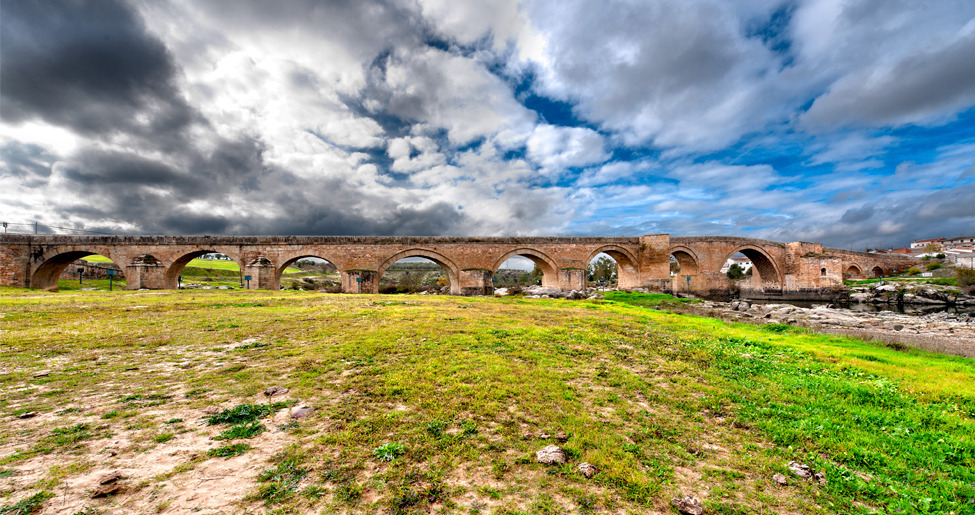 Visit
El Puente del Arzobispo (The Archbishop's Bridge), in the Campana de Oropesa region, owes its name and origin to the construction of the bridge in the 14th century.  Don Pedro Tenorio, Archbishop of Toledo and Duke of Estrada, was the owner of the neighbouring town Alcolea de Tajo, from where it was necessary to cross the Tagus river to reach the Virgen de Guadalupe Temple in Extremadura. Around the bridge a settlement was created because its construction facilitated not only the entry into Extremadura, but also into Lisbon and Ávila. That settlement and therefore the construction of the bridge are the seed of the current town.
The bridge is the biggest attraction for visitors. It was built with blocks of stone in 1380 with eight archways that, in the 18th century became eleven in order to prevent floods. Today, six centuries later, it is completely preserved in order to be both utilised and appreciated.
The community that spreads next to it is, of course, of medieval traces. The most significant buildings are dated between the 14th and the 17th century, apart from some such as the Santa Catalina mills from before the settlement, in the 12th century. Amongst the civil monuments, the pillory (symbol of jurisdiction) which dates back to the 14th century and the house of Diego de Villarroel. A cluster of traditional whitewashed houses with porticos provide a Manchegan feel.
In terms of religious architecture, the following stand out: the church of Santa Catalina, in a Gothic-Mudejar style; the Franciscan convent, to worship Nuestra Señora de Majano or the chapel of Nuestra Señora de la Bienvenida, from the 16th and 17th century. All of those are witnesses of the religious traditions in the area.
Besides its architectural heritage, there is another equal or if nor more important: its handicraft heritage.
Pottery is one of its most important assets, so much so that there are fairs in honour of the potters' patrons, Saint Justa and Saint Rufina and its particular clay baptism. A pottery that is similar to Talaveran pottery but with its own style.
OPENING HOURS AND HOW TO GET THERE
Access: CM-4000 CM-4101
Gallery
El Puente del Arzobispo
El Puente del Arzobispo
El Puente del Arzobispo
El Puente del Arzobispo
mas