A natural enclave for the Patroness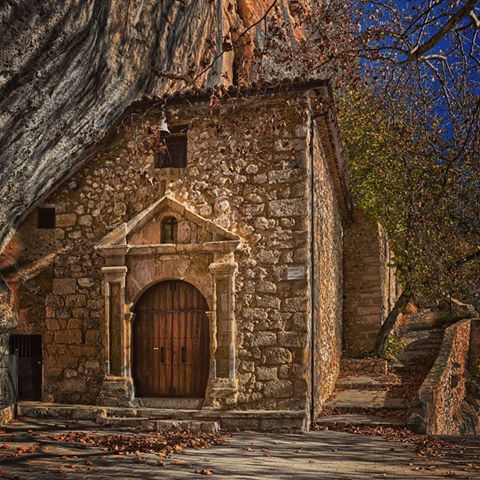 Visit
MAIN ATTRACTIONS
12 km from the town of Buendía and on the shores of the Guadiela River, we find the Hermitage of Our Lady of the Abandoned.
This area is also known as "The Spot", since it was the place where the Virgin appeared in the 16th century. The surrounding areas of the hermitage are perfect, with kiosks, water fountain, numerous benches, even bathrooms, for enjoying all the time you want in this spectacular space.
WHAT WE'LL SEE
The Patroness of Buendía, Our Lady of the Abandoned, spends eight months in the hermitage (from September to May) and four months in the Parish Church of Our Lay of the Assumption.
Coinciding with the second weekend of May, on Saturday she is taken up in a pilgrimage to the town, which receives her with a spectacular castle of fireworks. On Sunday there is a procession through the streets of Buendía, finally settling her in at the Parish Church. The Virgin is taken down again to the hermitage, also in pilgrimage, the first Saturday of September, a celebration that lasts all day and night. At dawn the next day, Holy Mass is celebrated.
ACCESS
Take the CM-2000 road towards the Buendía dam. Once arriving at the parking lot of the dam, take the asphalt path toward the electrical center. Before arriving at the center, continue some 3 or 4 km on the dirt path towards the Hermitage, until you arrive at an esplanade where you'll have to park the car, and continue the journey on foot (a little more than 1 km).
Large cars will have to leave be left at the parking lot of the dam since it is impossible to access the previously mentioned esplanade with them.
OUR RECOMMENDATIONS
Hiking lovers can go on the approved route PR CU 47 from the Buendía dam to the Hermitage, the distance of which is 12 km roundtrip.
Gallery
Ermita de los Desamparados 1
Ermita de los Desamparados 2
Ermita de los Desamparados 3
Ermita de los Desamparados 4
mas