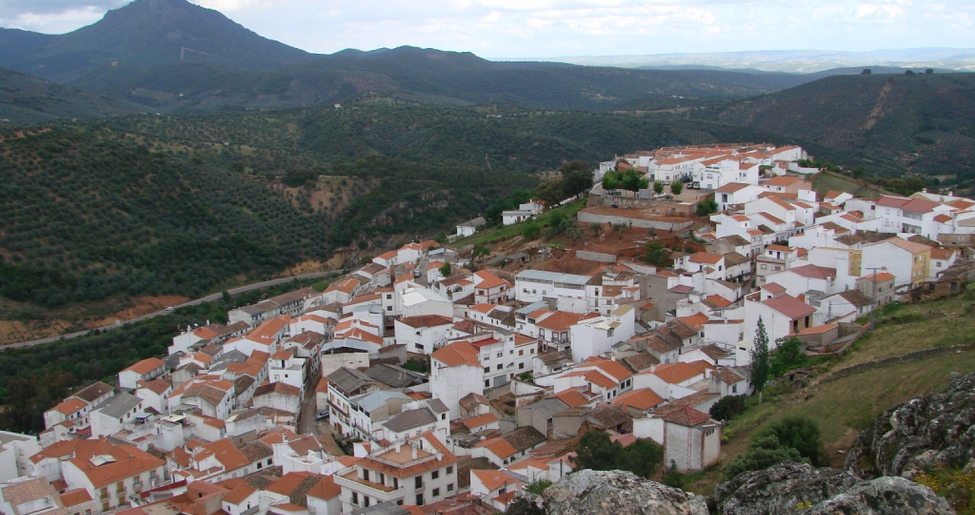 Visit
MAIN APPEAL
Very close to the border with Andalusia, in the Morena mountains and inside the Alcudia valley and Sierra Madrona Natural Park, lies the town of Fuencaliente. It is famous for housing the Peñaescrita and La Batanera rock paintings, which were declared a national monument. It also owes its name to the hot water spring that emerges under the Virgen de Baños church, and that in the past attracted many pilgrims due to the curing nature of its waters. Said spring was declared an asset of public interest in 1869 and it is still a source of vitality. If we add to all this its unique urban complex, we find ourselves before a village worthy of any tourist's beautiful postcard.
WHAT WE'LL SEE
Touring the streets of the town, the visitor will take a mental photograph of its whitewashed houses and its steep streets. In the village centre we can also find the Virgen de Baños parish church which was built around 1710. At the lower part of the temple, there is the hot water spring which goes through the main altar and under the Virgin's alcove. Next to her is the spa.
Already discovered by the 12th century, the spa's water properties are excellent for keeping in good health or getting over different ailments (rheumatism, arthrosis, lumbago...).
Apart from being an ideal place to relax, Fuencaliente is also a place where to enjoy cultural tourism (due to its exceptional heritage), active tourism (an infinite number of hiking routes can be explored) or even culinary tourism, offering mainly game dishes (wild boar, deer, roe deer).
WE RECOMMEND
A stop off at the Mirador de la Cruz viewing point, passing through the Fuente del Compadre fountain. From there we will gain a wonderful panoramic view of the town and the Sierra Madrona mountains.
OPENING HOURS AND HOW TO GET THERE
Fuencaliente is approximately one hour from both Ciudad Real and Córdoba and three hours from Madrid.
Despite its highland location, it is easy to get to from the north and from the south on the N-420 road. For those that prefer to leave the car at home and travel comfortably on public transport, Fuencaliente is 58 km from Puertollano, a stop on the high-speed Madrid-Seville route; there are bus services from Ciudad Real, Puertollano, Córdoba or Madrid.
Free access to the urban complex.
It is advisable to contact the Tourist Information Office in get information about access to the spa.
Tourist Information Office Telephone number:  926 470 288
Town hall Telephone number: 926 470 001
Gallery
La Batanera
Fuencaliente
Fuencaliente
Fuencaliente
mas