David Blázquez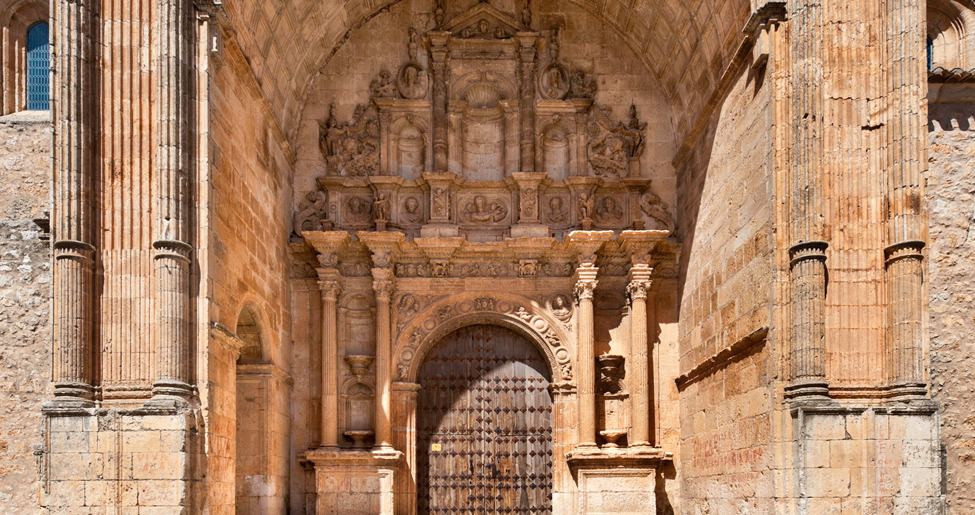 Visit
The Church of Santa María is perhaps the most important monument in Alarcón, without counting the castle, which attracts people more for its construction than for its artistic value. It was declared a National Monument in 1981.
It's construction took place between 1520 and 1565 (45 years, a record for that time) and during which Masters of the highest order took part, such as Esteban Jamete and Pedro de Alviz; the outline of the church is attributed to the latter.
With regard to Jamete, we see the touch of his hand throughout the whole church, highlighting above all the large South facade, whose construction began around 1550 and which is without a doubt one of the best facades in the province of Cuenca. It is a beautiful Plateresque entryway, sculpted beneath a large triumphal arch, which gives it an even greater monumentality. To the sides, we can see two columns and between them various empty recesses.
Upon entering the church, what will surprise us the most is its grander: the wide columns and the big Gothic vaults give a great sensation of space. The three naves are all the same height but, in this case, the columns lack capitals, for which the nerves of the vault emerge as if they were palm trees and reenforce the sensation of great space.
Notable in the interior, above all: the main altarpiece (1572), with enormous proportions, considered one of the best in the region; the baptismal font in the chapel of los Castañeda, to the North, by the same artist as the facade; and the choir, at the foot of the church, from the 18th century, work of José Martín de la Aldehuela.
Gallery
alarcón iglesia santa maría /David Blázquez
mas