Discover the artistic treasures of this sweet town
David Blázquez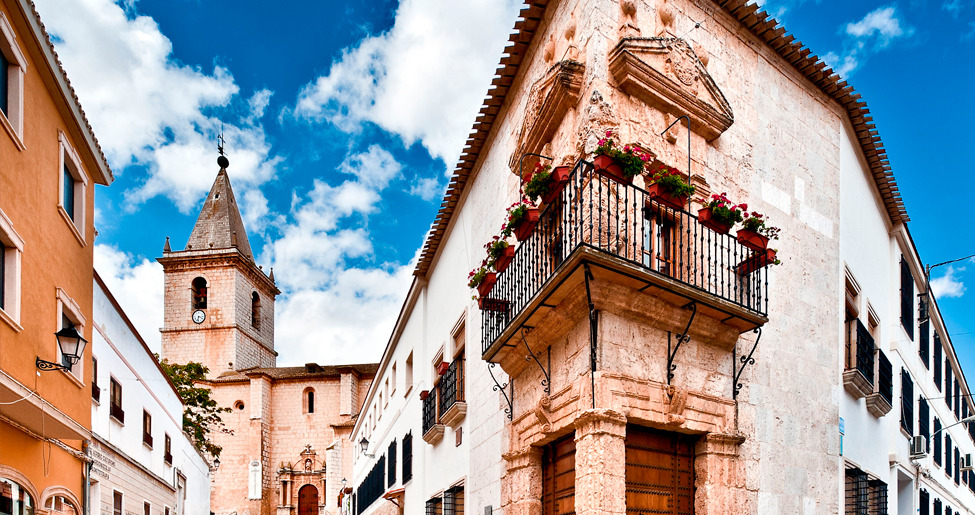 Visit
The name of this town originates from its function as a passing point along the ancient routes that joined Complutum with Cathago-Nova (now Cartagena) in Roman times; or the silk route that joined Toledo with Valencia and Cartagena. It derives from the Arabic "rutba", the tax that was paid for the passage of livestock. Like a good apprentice of so many peoples and cultures, La Roda has learned to take the best of each one and show them off in its urban collective, its magnificent church of the Savior and the Palaces of the Doctor of La Encina and that of the Counts of Villaleal. Currently it is well connected to its capital, Albacete, separated by only 36 km.
Its whole urban complex has been declared an Asset of Cultural Interest for its historical and cultural value.
WHAT WE'LL SEE
Streets like Pedro Carrasco stand out, clearly Manchegan, emblazoned houses and the so-called corner of Alcañabate. Integrated in this precious urban environment, the visitor can admire the church of the Savior, from the 16th century, also categorized of Cultural Interest. Among its architectural styles we can distinguish the Gothic, Baroque and Renaissance, the last being predominant. With three longitudinal naves and five transversal, it reaches its greatest height of 26 meters at the lantern of the cupola. Outside, the beautiful tower shines, better known as the Lighthouse of La Mancha; and inside a canvas by Lucas Jordán, Adoration of the Magi, in the chapel of the Rosary. The remains of an altarpiece by Berruguete is also preserved in the sacristy.
Near the church you'll find the Palace of the Doctor of La Encina, with the coat of arms at the entrance. Its worthwhile for the visitor to admire the marvelous arcaded courtyard with Tuscan columns that support the wooden roof. The palace belonged to Doctor Ferdidnad de la Encina, canon of the Cuenca Cathedral and ahead of his time, as he was very knowledgeable of art and culture.  A few meters from the church we also have the Palace of the Counts of Village, declared of Cultural Interest in 1989. In it, we can highlight the rococo entry door and the cupola decorated with various tiles.
MORE INFORMATION
RECOMMENDAITONS
There are many sights to see in La Roda, if we have to name one more we recommend seeing the so - called painting of Doña Ana in the chapel of Saint Sebastian, a great stone wall with a valdevirian style lineage. Of its popular architecture we can highlight the Sun Inn, now property of the City Hall and dedicated to cultural and artistic activities.
And for those who are more interested in Nature we can visit the Júcar River or its marvelous Central Park.
For those with a sweet tooth, don't forget that this town is the birthplace of the famous "Miguelitos" of La Roda (a sweet pastry, usually filled with cream).
Gallery
La Roda
La Roda
La Roda
La Roda
La Roda
La Roda
La Roda
La Roda
La Roda
La Roda
La Roda
mas