The giants of the horizon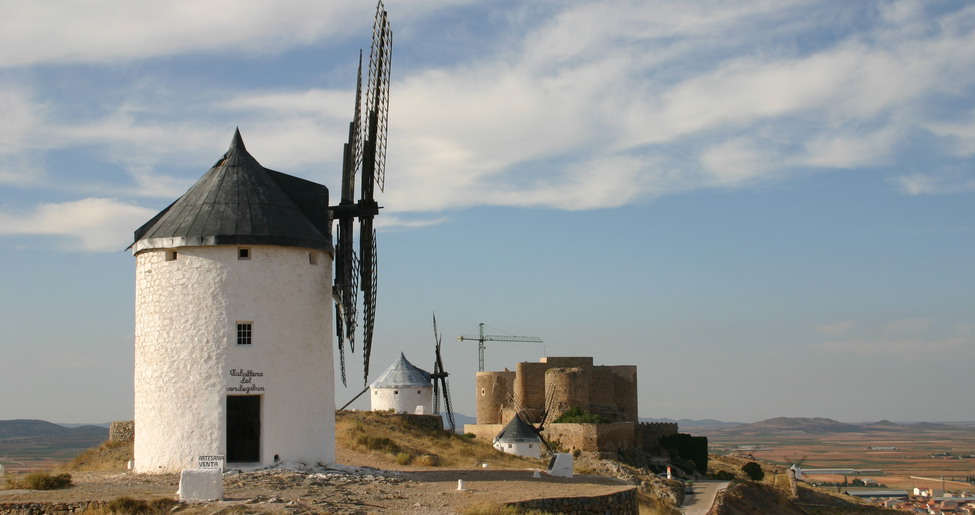 Visit
MAIN ATTRACTIONS
Over any of its characteristics the horizon line in Toledo province stands out in Consuegra. The giant windmills seem very small in the distance, but they look like soldiers who guard the castle. 
This group of windmills of outstanding beauty is one of the biggest of La Mancha and one of the best preserved. The potter's workshop is located on the outskirts of the village, towards Madridejos.  
WHAT WE´LL SEE
This group of twelve windmills flies across the sky in Cerro del Calderico ridge.  Some of them preserve the whole machinery, these are the Sancho, Rucio, Bolero and Espartero windmills.
Sancho deserves special mention, the giants' squire has the whole machinery of the 16th century and makes it work for the Saffon Flower festival: by opening its small windows, it observes the wind carefully, and, when the blades and the head part of the mill is oriented, its stone starts La Molienda de la Paz (Peace milling). This symbolic act, which is frequented by public figures, transforms wheat into flour, which is distributed in small bags among those who are present.  The mills present the same personality as their own character's names and they have have been taken from Don Quixote: Chispas, Caballero del verde Gabán, Mambrino, Clavileño, Alcancía, Cardeño, Mochilas y Vista Alegre.
The Potter's Wokshop is a typical building of La Mancha, white and indigo. Inside, two kilns are preserved and a museum can be visited, it offers a craftwork exhibition, roman ruins which were found in the old workshop: bases, capitals and shafts, and also an old Via Crucis.
OPENING HOURS AND ACCESS
Town Hall Tel. 925 480 185. Access A-42
Gallery
Molinos de Viento de Consuegra
Molinos de Viento de Consuegra
Molinos de Viento de Consuegra
mas