The village where Cervantes talked to his characters
David Blázquez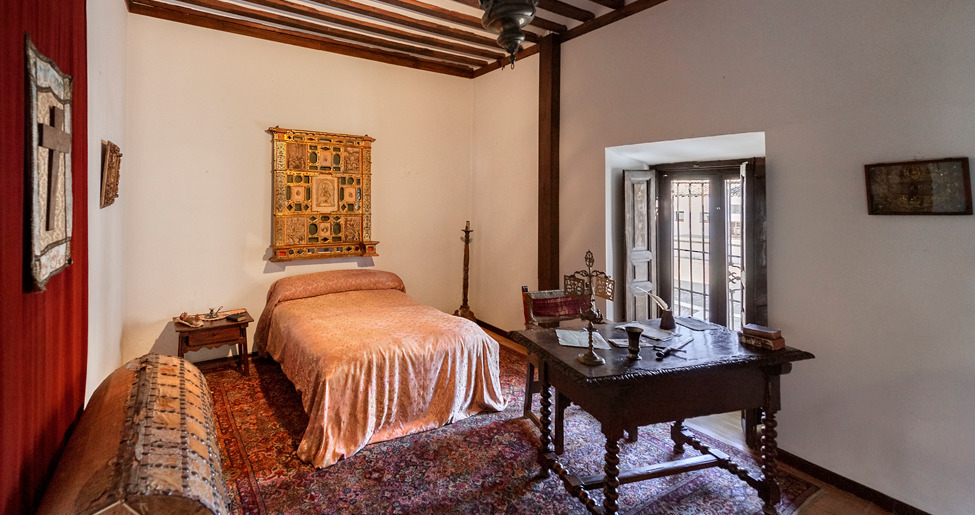 Visit
As the crest of its main wall facade states, the house belonged to the nobleman Alonso Quijada de Salazar, member of Quijada's family, rich landowners from Esquivia. A large number of Cervantine biographers, such as Rodríguez Marín and Astrana Marín, consider that this nobleman settled the first sketch for the creation of the worldwide famous character Don Quixote.
In 1971, the building was declared Historical-Artistic Monument. It is a typical two-floor large house with a stoned courtyard which is reached via a large gate and preserves totally the structure of the ceilings, with exposed beams, as well as the doors with ironworks and bars in the windows.
In addition to the interest of the building itself and the ethnographical collection (domestic and farming tools), we will find historical documents related to Don Quixote, his author and the characters; editions in different languages in addition to a facsimile edition; two original editions of "La Galatea" and a reproduction of the manuscript of "El trato de Argel".
VISIT
The visits are always guided and the prices of the guide services are included in the price of the entry.
Every group visit must be made prior appointment on the phone: (+34) 925546632, asking for Susana García or by e-mail to casacervantes@esquivias.es with confirmation in this case.
Duration of the visit: 1 hour.
PRICES
Particulars: 3€.
Retired older than 65: 1.50€.
Groups in general: 2€.
Groups of retired: 1.50€.
TIMETABLE
Closed every Monday of the year and public holidays, January 1st and 6th; and December 24th, 25th and 31st.
Autumn and Winter
Monday closed for resting.
Tuesday to Friday: 9:30-13:30 / 16:00-18:00.
Saturdays, Sundays and public holidays: 10:30-14:00.
During July and August the timetable will be from 9:00 to 14:00. In the afternoon it will remain closed.
Gallery
Esquivias
Museo - Casa Cervantes
Museo - Casa Cervantes
Museo - Casa Cervantes
Museo - Casa Cervantes
Museo-Casa de Cervantes
mas