Abstract art in the Hanging Houses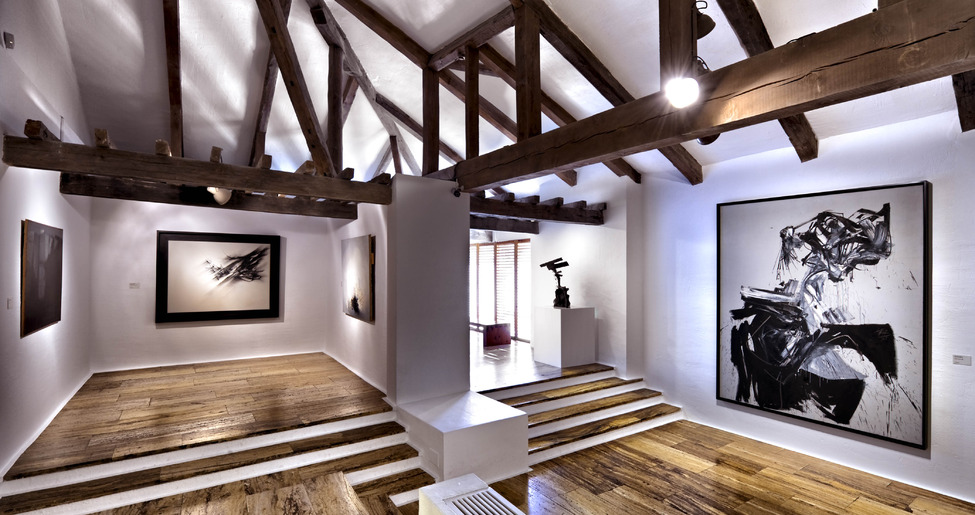 Visit
A legendary museum in a legendary place. The Hanging Houses are the current residence of the sample. A warm and breathtaking space with wooden outdoors balconies, from where unrivalled horizons can be contemplated over the gorges of Huécar river.
Inside, there is one of the most completed collections of Spanish artists work from the abstract generation of the 50s and 60s which continues the new ideas that Picasso, Miró and Gris had on their days. Therein are represented the artists who changed some of the more important abstract trends of the Spanish art by mid-20th century. There are more than thirty authors: Millares, Chillida, Tápies, Sempere, Canogar, Torner, Rueda, Zóbel, Saura… authors who practiced the gestural, material and geometrical abstraction, at the same time as other pictorial practices in other countries.
The works are part of the art collection that Juan March Foundation started at the beginning of the 60s and which had a big stimulus in 1980, when Fernando Zóbel, the creator of the Abstract Art Museum with his particular collection of works, gave them to Juan March Foundation.
The exhibition includes more than a hundred paintings and sculptures carefully chosen from the collection material and displayed as individualities, in spaces designed by the painter Gustavo Torner, together with Zóbel, and the help of Gerardo Rueda and other artists. This center got, among others prizes, the Golden Medal to the Merit in Fine Arts and the Prize of the European Council to the European Museum of the year in 1981, the Castilla-La Mancha Golden Medal (1991) and the Prize of Turismo 1997 of this Autonomous Community.
In the museum, in addition to the permanent exhibited work, there is an impressive fund of graphic work and an extraordinary art library, which can be consulted by specialists.
ACCESS
Free entry.
Tuesdays to Fridays and public holidays: 11.00-14.00 and 16.00-18.00.
Saturdays: 11.00-14:00 and 16:00-20:00.
Sundays: 11:00-14:30.
Mondays: closed.
Closed on: 1st January, Holy Thursday (afternoon), Holy Friday; 18th, 19th, 20th and 21st September; and 24th, 25th and 31st December.
Guided visits (previously arranged): Tuesdays to Fridays: 11.00-14:00 and 16:00-18:00.
CONTACT
E-mail: museocuenca@expo.march.es
Telephone: (+34) 969 212983
Gallery
Museo de Arte Abstracto Español
Museo de Arte Abstracto Español
Museo de Arte Abstracto Español
Museo de Arte Abstracto Español
mas