Made of silk, gold and ivory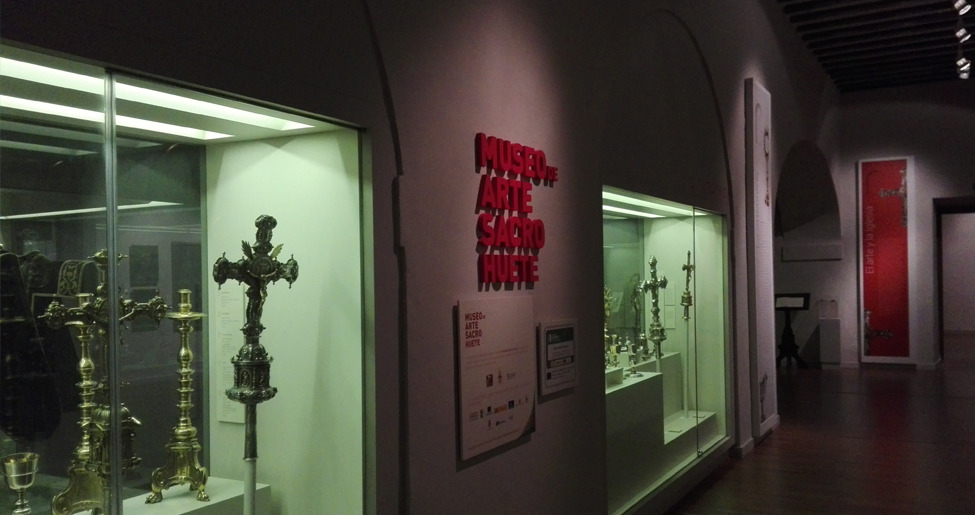 Visit
Huete was, and still is, one of the most enormous villages of Cuenca, and the importance of a religious life in other centuries had a remarkable presence in Huete. Eight monasteries, ten churches and some hermitage support that idea, and the richness of its walls was uncountable. The Sacred Art Museum of Huete tries to remember the religious richness this city once had, a sample of the ecclesiastical patrimony heritage that resisted expropriations, assaults and wars.
The shortage of preserved objects makes contrast with the beauty and the importance of the pieces, many of them real works of art, such as the parish cross of San Nicolás de Almazán Parish,a Becerril's work, with other parishes' such as the Atienzaor San Nicolás de Medina.The work tools accompanied by suits and capes, smart samples from other times and people's clothing, and by a strange ivory cross, made in Philippines which shows a crucifix of oriental appearance. It is also preserved the little that remained of the imaginary and the painting of Huete, with a beautiful baptism example.
The sacred art is the reflection of the wealth of a few in those times, but today all of us are able to take this enriching visiting through its glass cabinets.
ACCESS
Price: 2€. Children younger than 10 years: free entry.
Monday afternoon and Tuesdays: closed.
Winter timetable (October-April): 11:00-14:00 / 16:00-18:00.
Summer timetable (May-September): 11:00-14:00 / 17:00-19:00.
Gallery
Museo de Arte Sacro (Huete)
Museo de Arte Sacro de Huete
Museo de Arte Sacro
mas