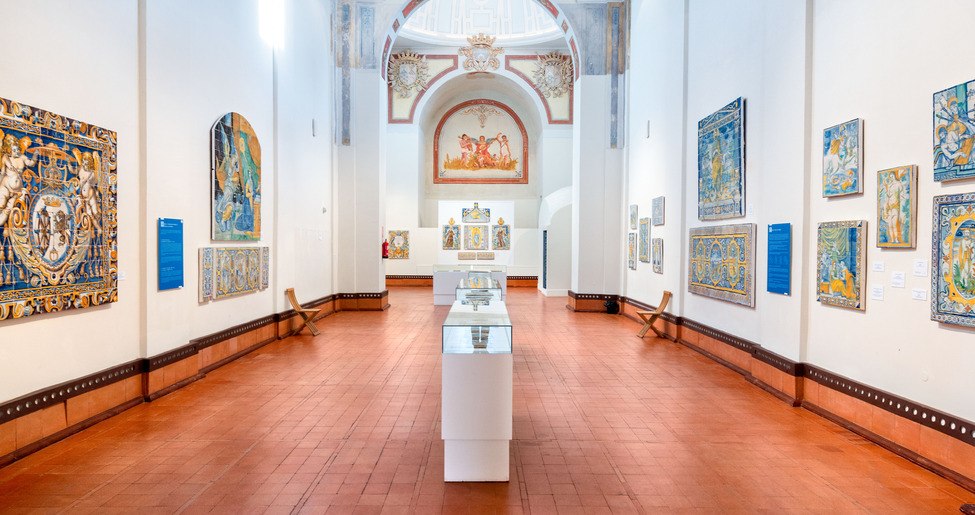 Visit
The Ruiz de Luna Museum of Talavera de la Reina occupies part of the ancient convent of San Agustín, refund in 1566 by San Alonso Orozco, from Oropesa, who undertook the remodeling of the "agustinos recoletos" in this monastery from Talavera.
The present collection is a reminder of the glory lived by the city during 16th and 17th centuries thanks to its ceramics production and to the enormous work of the ceramist Ruiz de Luna from the end of 19th century to the middle of 20th century. In the museum the fame of the pottery from Talavera is recovered with a sample of those models of works which gave it prestige in past centuries.
It was opened in 1996 and expanded in 2013.
WHAT WE'LL SEE
Although some pieces exhibited dates back to the Middle Age, the most part of the exhibition are works in talaverana ceramics made from 16th to 20thc entury. Among them are represented the dishes with Mudejar reminiscence and the series of "las mariposas", "el helecho", "la palma con golondrinas" and those of oriental influence, all of them from 16th and 17th centuries; and the polychromatic series from 17th century, the Golden Age of the talaverana ceramics.
The characteristic series from 18th century are also exhibited, such as those of Alcora influence, the "flor de plata", etc. and others from 19th century. The collection has also an important ceramic fund from the village of Puente del Arzobispo from 16th to 20th centuries.
The chronologic tour ends with the own work of Ruiz de Luna, with pieces so famous like "el Retablo de Santiago".
ACCESS
15th June -15th September:
Tuesday to Friday and public holidays: 9:00-15:00. Saturdays: 10:00-14:00 / 16:00-19:00.
Sundays: 10:00-14:00.
16th September-14th June:
Tuesday to Saturdays and public holidays: 10:00-14:00 / 16:00-19:00.
Sundays: 10:00-14:00 / 16:00-19:00.
Monday closed.
More info in:
Telephone: +34 925 80 01 49
E-mail: museoruizdeluna@jccm.es
Gallery
Museo de Cerámica Ruiz
Museo de Cerámica Ruiz
Museo de Cerámica Ruiz de Luna
Museo de Cerámica Ruiz de Luna
Museo de Cerámica Ruiz
Museo de Cerámica Ruiz
mas