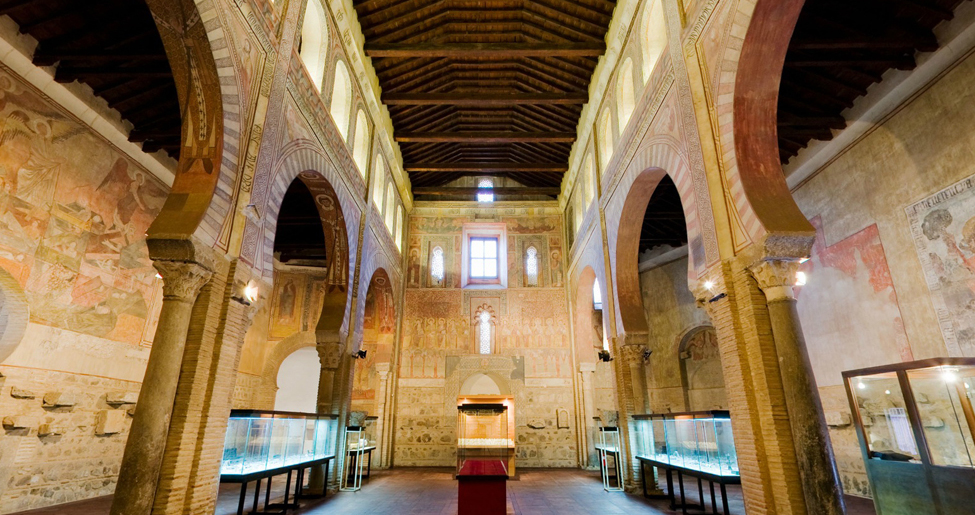 Visit
MAIN ATTRACTIONS
Archeologic samples of 6th, 7th and 8th centuries.
WHAT WE'LL SEE
Cymatiums, capitals, reliefs, epigraphic objects, paintings, historical documents and gold work. Trousseaus from the cemetery of Carpio de Tajo. Reliable reproductions of votive crowns which belonged to Visigoth Kings Suintila and Recesvinto. They were founded in Guadamur in the 19th century and belongs to Guarrazar Treasure.
ACCESS
Timetable
Tuesdays to Saturdays: 10:00-14:30 and 16:00-19:00.
Sundays: 10:00-14:30.
Closed: Mondays, January 1st, May 1st, and December 24th, 25th and 31st.
Prices (link)
FUNFACTS
Located in the impressive San Román church (13th century). It is a clear example of Mudejar from Toledo. The dome of the apse was made by Covarrubias and the altarpiece by Diego Velasco. There is a Roman and Arabic presence in the paintings of the wall.
Pictures: Antonio Real Hurtado.
Gallery
Museo de los Concilios y de la Cultura Visigoda
Museo de los Concilios y Cultura Visigoda
Museo de los Concilios y Cultura Visigoda
Museo de los Concilios y de la Cultura Visigoda
mas