Mills with diverse accents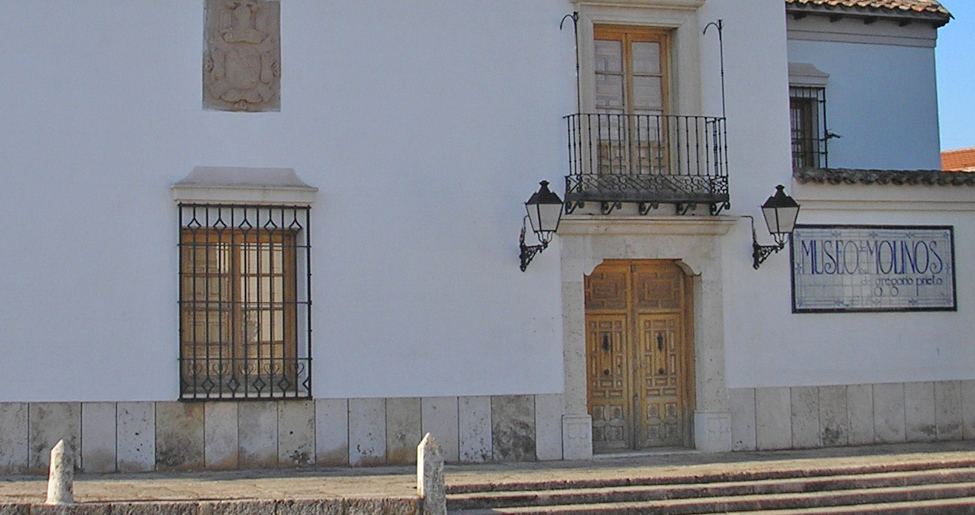 Visit
On 13th November of 1982 a new museum space was opened in Valdepeñas in addition to the Molino-Museo, opened to the public on the 50s. With this, a Gregorio Prieto's dream came true of having his entire work dedicated to mills in an exhibition space in his birth town.
To perform this dream, Gregorio Prieto transferred a piece of land to the City Hall of Valdepeñas in order to build the museum. Its construction was coordinated in its design by Vicente Nello, from Valdepeñas, was made following the pattern of the architecture of La Mancha from 16th and 17th centuries. A large number of constructive elements were picked up, such as grills, columns, wooden beams, noble shields, etc., which were reused in its construction and decorate the new museum.
The central courtyard is a tribute to the people of Valdepeñas that fought for the city's independence on 6th June 1808. An historic introduction of the facts that caused the Independence War; biographies and documentation of the most important characters on 6th June such as Juana Galán "La Galana" and Francisco Abad "El Chaleco", as well as a description of what happened in the city during those days give us a vision of the resistance that the people of Valdepeñas had against the forces of Napoleonic invasion.
The ground floor rooms are dedicated only to the mills, introducing us a tour through Gregorio Prieto's work, which shows us his defense of this peculiar construction of La Mancha. We can emphasize his work "Los Molinos de Consuegra". But his attraction for this type of constructions didn't focused only on the manchego mill, so we can see works with mills he had been knowing in his travels for Europe: Holland, Belgium, Greece, Austria, Italy and England mills.
On the first floor we find the legacy of Eusebio Vasco, where thanks to all type of documentation we can make a tour through the history of Valdepeñas.
Finally, we must remark the art collection of painters of Valdepeñas from the end of 19th century, which were the origin in 1940 of the 1st call of the present International Plastic Art Exhibition. We can remark Hurtado de Mendoza, Manuel Delicado, Eduardo Núñez, Aníbal Sánchez Toledo, etc.
TIMETABLE
Mornings: 10:00-14:00. Afternoons: 18:00-21:00.
Sundays and public holidays: 11:00-14:00.
Monday and Tuesday closed.
CONTACT
Telephone: 926 31 16 60
E-mail: cultura@valdepenas.es