Are they mills or just giants waving their arms to the wind?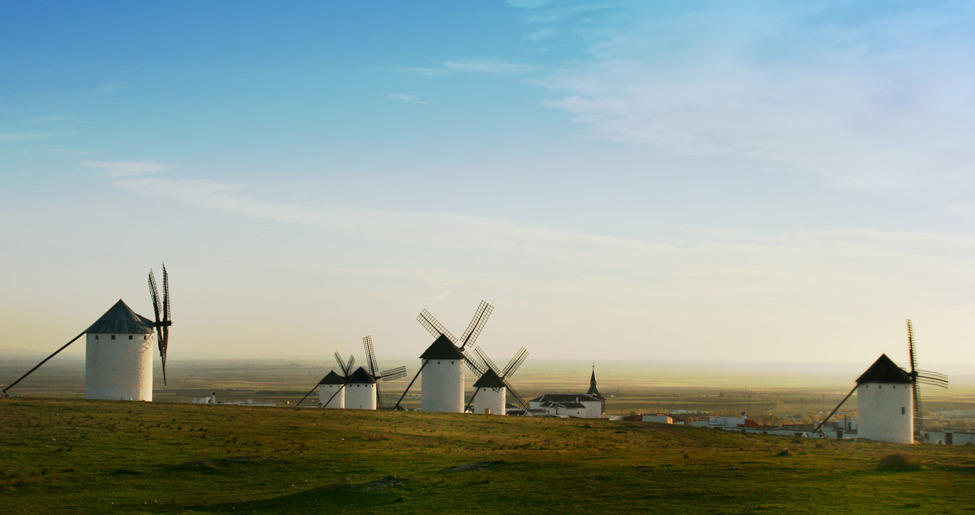 Visit
The most remarkable picture of Campo de Criptana is its windmills, and icon of Castilla-La Mancha and Spain, and in many occasions, the Spain in the world. The experts in the universe of Don Quixote ensure that the windmills of Campo de Criptana were the inspiration source of Miguel de Cervantes when he wrote the famous 8thchapter of his great work.
This museum of windmills is compound by 10 real windmills from 16thcentury which gathers inside different and original exhibitions.
You can start your visit by the mill called "Poyatos", where you will find the Tourist Office.
The mill called "Culebro" is a thematic museum of the actress Sara Montiel, born in this village. This exhibition is opened depending on the tourist demand. In some occasions visit timetables every half hour are established.
In the mill called "Inca Garcilaso" is the farming museum, in the mill called "Pilón" the wine museum, in the mill called "Lagarto" a poetry museum, in the mill called "Cariari" is the film museum dedicated to the decorator "Don Enrique Alarcón", and the mill called "Vicente Huidobro" has an exhibition about the man who gave it the name.
Among all of them, the three only mills of the Península Ibérica that preserve its original structure and machinery from 16thcentury are remarkable ("Infanto", "Burleta" and "Sardinero"), which still can mill the cereal like they did centuries ago, thanks to the human being ingenuity and the wind force.
VISITS
Guided visits and ticket sale in Tourist Office and Tourist Information Points ("Poyatos" mill).
Open from Monday to Sunday: 10:00-14:00 / 18:15-21:00.
CONTACT
Telephone: 926 56 22 31 / 926 56 39 31
E-mail: turismo@campodecriptana.es
Gallery
Museo de los Molinos de Viento
mas