Modern engravings in a Renaissance environment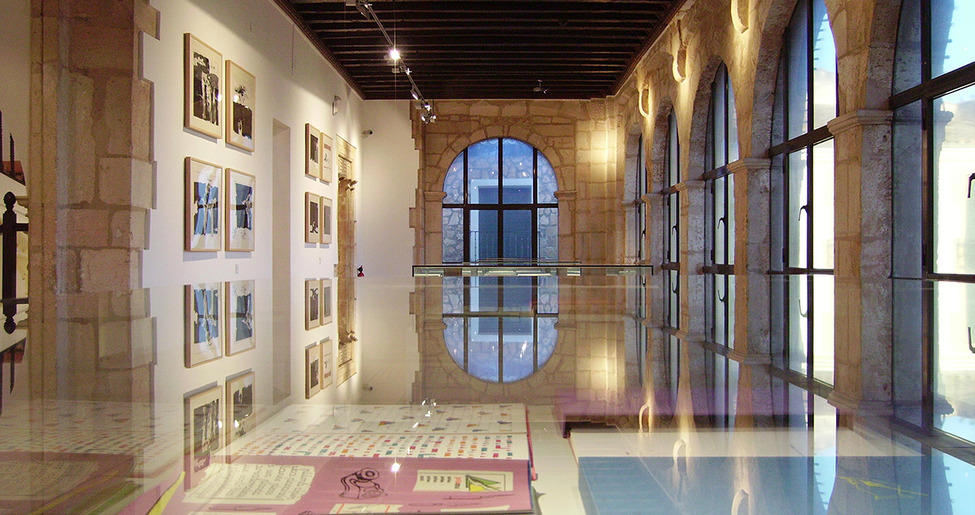 Visit
MAIN ATTRACTIONS
A contemporary museum with one of the best graphic work collections in of Spain, located in the most symbolic building of San Clemente. An Andrés de Vandelvira's work, is one of the most beautiful and important examples of Renaissance of our geography, where today past and present come together.
WHAT WE'LL SEE
Dedicated to the graphic work from 20thcentury around the European Informalist Movement, the Pop Art and the New Figuration. We can find some rooms and spaces dedicated to artists such as Saura, Millares, Equipo Crónica, Manolo Valdés, Feito or Gordillo. Work of some of the members of Grupo Cobra, Lucebert and Corneille. Among the artists presents in the collection, it is also remarkable Joan Brossa's work with his Poesía Visual, Ouka Lele, Carlos Pazos, Alcaín, Tapies, Zobel, Roland Topor and work of younger artists such as Pagola, María Luisa Pérez Pereda and Rosa Torres, without ignoring Antojos collection.
ACCESS
Timetable:
From Monday to Friday: 10:00-14:00 / 17:00-19:00.
Saturday and Sunday: 10:30-14:00 / 16:30-20:00.
Guided visits: Saturdays and Sundays: 10:00-10:30 / 16:00-16:30.
Price:
Global entry: 2€.
Discounts: 1€ (older than 65 and students).
Free entry: residents in San Clemente and children younger than 10.
Other services:
Educational workshops. Arranged guided visits. Transfer of the spaces for cultural acts. Engraving workshop.
FUNFACTS
Isabel de Portugal, Emperor Carlos the 1st's wife and owner of the villa, ordered to built the building. It was a City Hall during more than four hundred years and it is declared Property of Cultural and Historic Interest. It preserves the original coffered ceiling, along with its rooms and a beautiful arcaded gallery with exposed stone, give to the works that are hanged in its walls a mutual halo, which transmits to the visitor a new rebirth between past and present.
Gallery
Fachada Museo de Obra Gráfica de San Clemente
Museo de Obra Gráfica de San Clemente -Fotografía: Artetinta-
Sala de Exposición 3 Museo de Obra Gráfica de San Clemente
Sala de Exposición 2 Museo de Obra Gráfica de San Clemente
Galeria 2 Museo de Obra Gráfica de San Clemente
Galeria Museo de Obra Gráfica de San Clemente
Michelin Museo de Obra Gráfica de San Clemente
Exterior Museo de Obra Gráfica de San Clemente
Escultura Carlos Pazos Museo de Obra Gráfica de San Clemente
Museo Obra Gráfica San Clemente MOG
Museo Obra Gráfica San Clemente MOG - Talleres
Museo Obra Gráfica San Clemente MOG - Talleres
Museo Obra Gráfica San Clemente MOG - Talleres
Museo Obra Gráfica San Clemente MOG - Talleres
mas