Cuenca, a land of dinosaurs
David Blázquez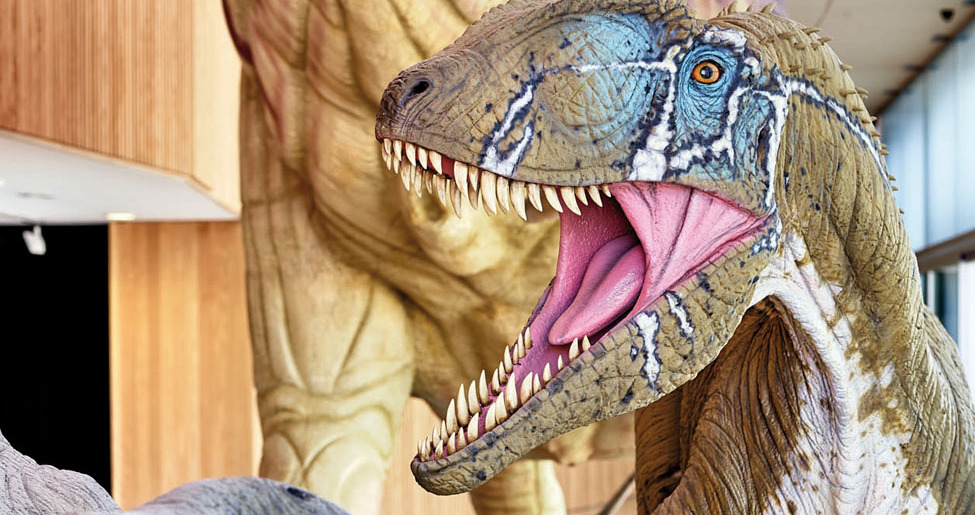 Visit
The heritage related to the paleontology of Castilla-La Mancha spreads for all the territory, being a good sample of this heritage in Castilla-La Mancha Paleontology Museum. Moreover, there are two very important sites from the Cretaceous Period in Western Europe in the province of Cuenca: "Las Hoyas" and "Lo Hueco". It is important to underline the high quality of the fossils that are shown in this museum, the majority of them are unique and they are preserved very well.
Through this Paleontology Museum we can go over of a funny and educational way this "Dinosaur's land" and we can meet directly curious and unique specimens like the "basicráneo" (skull) of a sauropod titanosaur, an herbivorous dinosaur of 12 metres long that lived in the Superior Cretaceous. The Iberomesornis romerali, a primitive bird of a sparrow shape located developmentally between the theropod dinosaurs and the modern birds. Concavenator corcovatus , a carnivorous dinosaur, a theropod from the group of the carchadontosaurids, that lived at the beginning of Cretaceous Period, approximately 125 millions of years ago, also known as "Pepito". Or our final guest, Lohuecotitan pandafilandi, a giant sauropod from the site "Lo Hueco", much closer to our age.
ACCESS
→ ATTENTION: due to the refurbishment works of the 3rd phase, the museum will be temporarily closed until the inauguration, foreseeably before the end of the year.
From Tuesday to Saturday: from 10:00 to 14:00 and from 16:00 to 19:00.
Sundays: from 10:00 to 14:00
Mondays closed
General entry: 3€. Free entrance Wednesdays afternoons and Sundays.
CONTACT
Telephone: (+34) 969 271 600
Email:  inforeservas@tierradedinosaurios.es
Gallery
Mupa
Mupa
Museo Paleontológico C-LM
Museo Paleontológico C-LM
Museo Paleontológico C-LM
Museo Paleontológico C-LM
Museo Paleontológico C-LM
Museo Paleontológico C-LM
Museo Paleontológico C-LM
Museo Paleontológico C-LM
Museo Paleontológico C-LM
Museo Paleontológico C-LM
Museo Paleontológico C-LM
Museo Paleontológico C-LM
Museo Paleontológico C-LM
Museo Paleontológico C-LM
mas