The secrets of a wine with D.O.
David Blázquez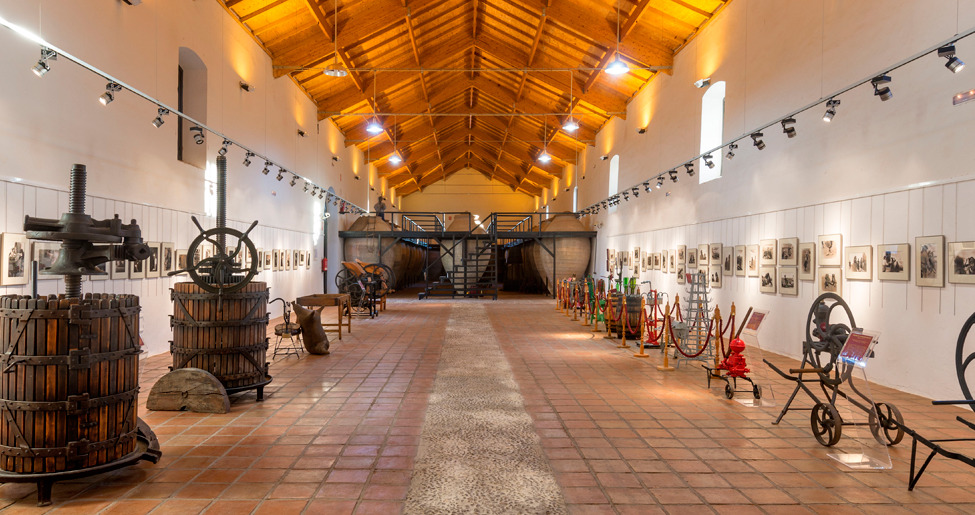 Visit
The museum is located over an ancient wine cellar of Leocadio Morales, dated from 1901, which lived intensely the commercializing and exporting height of the wines from Valdepeñas in the beginning of last century.
This museum allows the visitor knowing the evolution of the cultural practices of the grapevine and the elaboration of the soup through its monographic building in an educative and interactive way.
Inside, it gathers all the history and tradition of the Designation of Valdepeñas Origin, the efforts, the bustle towards the quality started in the 60s and has resulted on "the new generation of wines of Valdepeñas." This is captured in the structure of the building, functionalist style that, as a big monolith in its façade, burst in the typical valdepeñera wine cellar.
In the same way the ensemble of structures of the ancient wine cellar is perpetuated in a moving way, preserving it in its splendor.  We can contemplate a majestic courtyard, leading by the typical manchego well with parapet made in one-piece stone, farm tools located in the lateral porch, the structure of gable roof with tile of Arabian tradition, loading docks, the scale, the "jaraiz" –where the presses and the original granaries– the "chilangos", the wine cellar of clay jars and its cave, where the famous "tinajilla" of the winemaker cannot be absent.
Besides, inside the nave of jars the machines and tools that are part of the elaboration are exhibited with the permanent exhibition of pictures made by Harry Gordon during the grape harvest in 1959 in Valdepeñas.
Another section is dedicated to the laboratory and the exhibition of cubes where casks and barrels from different sizes were made.
TIMETABLE AND PRICES
Consult here.
Gallery
Museo del Vino Valdepeñas
Museo del Vino Valdepeñas
Museo del Vino Valdepeñas
Museo del Vino Valdepeñas
Museo del Vino Valdepeñas
Museo del Vino de Valdepeñas (Ciudad Real)
Museo del Vino de Valdepeñas
Museo del Vino Valdepeñas
Museo del Vino Valdepeñas
mas