Roman mosaics and a cursed artist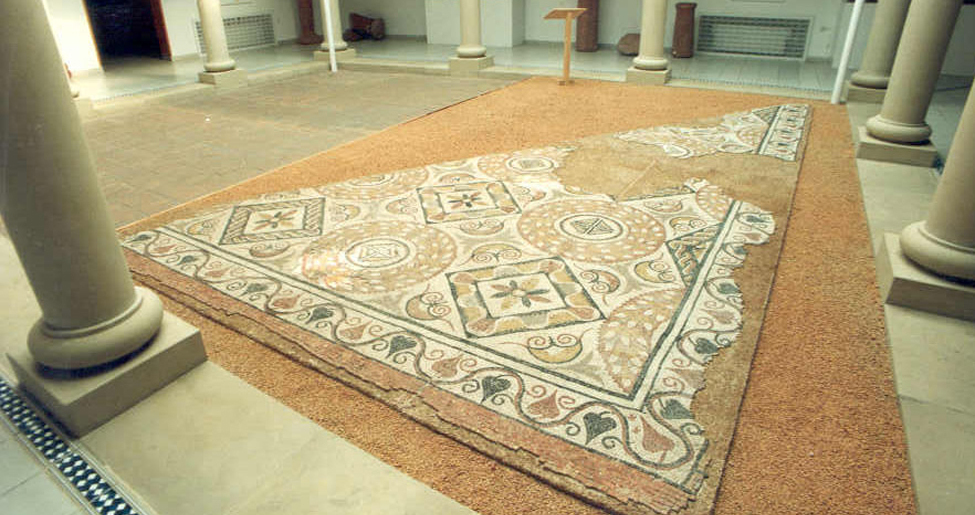 Visit
This building is the merged of two inherited elements of the city which have their origin in the 17th century. One is the remains of an ancient manor house of the Sanabria family and the other what is left of the ancient hermitage of Santo Domingo Soriano, created in memorial of Don Diego de Sanabria.
The house has had different uses, emphasizing the inn function, until it was acquired by the City Hall and turned into a museum. It gathers archeological elements of some interest in the city.
Indoors the house is organized in two floors around a square courtyard.
In the lower part we can find the permanent exhibition of the museum. We can see elements from the archeological heritage which leads us to the Prehistoric period of Alcázar (carving hearts, polished stone axes, "hendedores", ounce teeth, arrow heads…) rescued in the depth of huts from the archeological site of "Las Saladillas" and the Iron Age.
The main pieces are the Roman mosaics found in the old urban city of Alcázar de San Juan during some archeological campaigns carried out in the Hispanic-Roman site of this village. There are also exhibited a series of building materials and Roman tools, domestic materials and a series of movable properties from the Hispanic-Roman site of Alcázar de San Juan.
In a little room the painting of the artist from Alcázar, Ángel Lizcano Monedero is exhibited, where he shows some pieces of his work.
The upper part of the museum gathers temporary exhibitions. Information about temporary exhibitions in
http://www.patronatoculturaalcazar.org/.
ACCESS
Free entry.
Monday closed.
From Tuesday to Friday: 11:00-14:00 / 17:00-21:00.
Saturdays: 12:00-14:00 / 19:00-21:00.
Sundays and public holidays: 12:00-14:00.
CONTACT
Telephone: 926 55 13 05.
Gallery
Museo Municipal de Alcázar de San Juan
Museo Municipal de Alcázar de San Juan
Museo Municipal de Alcázar de San Juan
mas