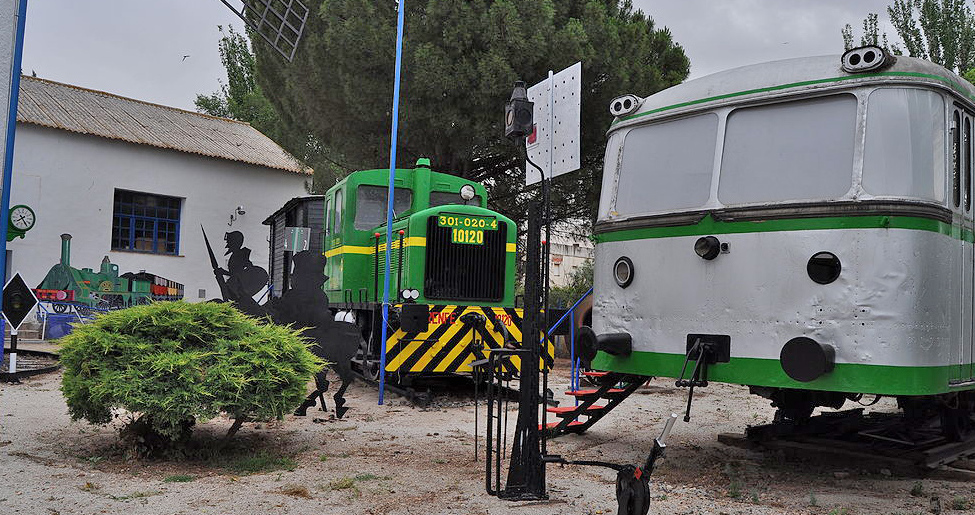 Visit
Opened in May 1985 as a National Railway Museum, it is located in the area of the old RENFE station and it is managed by the Railway Enthusiasts Association.
In the middle of the 19thcentury, the construction of this mean of transport started. From this moment, Alcázar became an important railway place, which meant the progress and development of the city.
More than 900 pieces of the different collections can be admired in the museum. We must remark: a radio-wheel wagon from 1860 probably, the only one which stand still in Spain; ancient, noisy and touching steam machines: the 040 from 1895, the 640 and the 1400; a diesel locomotive of RENFE manoeuvres; a middle trailer of "ferrobus" prototype made in Germany; a closed wagon from 19thcentury as well as other elements: steam fixed boilers, rail machines, traffic lights with metal signs, bill machines, locomotive pieces, fabrication sheets of locomotives, some rail work material, electric work material in catenary, telephones, switchboards, caps, etc.
For children and grownups it can be a fun moment. For expert and interested people in this field, they are offered a detailing in many aspects of the Railway History, through the visit and the use of the library.
VISIT
Open Sundays from 12:00 to 14:00.
Visits can be made in any timetable making an appointment with the museum.
CONTACT
Telephone: (+34) 670688218
E-mail: contacto@museoferrocarrilalcazar.com
Gallery
Museo Nacional Ferroviario
Museo Nacional Ferroviario
Museo Nacional Ferroviario
mas