David Blázquez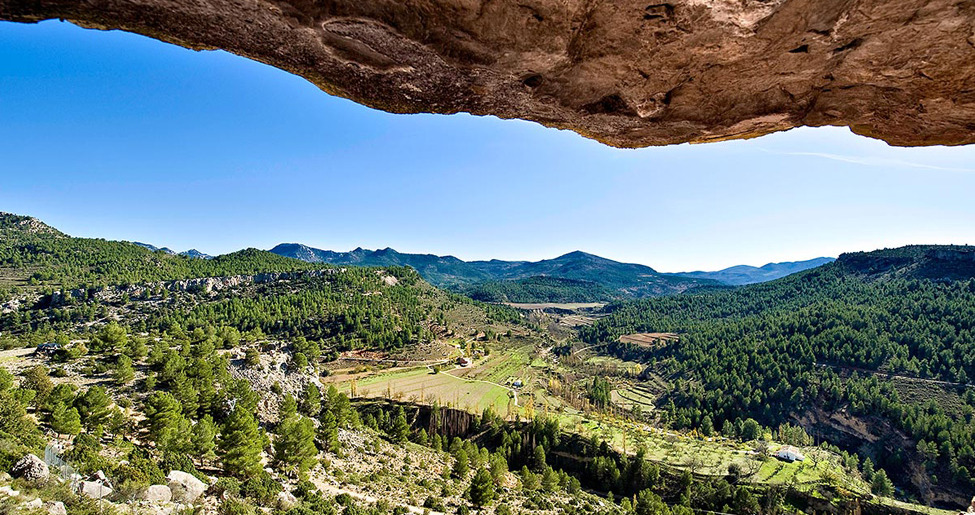 Visit
Nerpio is the southern-most town in the region and therefore the entire region; its territory is like a heel between the provinces of Jaén, Granada and Murcia and that is why it acted as a border with the kingdom of Granada. The tour of its streets is pleasant and picturesque. From the surrounding areas, the castle and the shelters, the pathways open up to us like natural viewing points of the town, the meadow and the mountain.
The castle of Taibilla, a watchtower over the village and a guardian of the cultures that inhabited it is erected in the landscape. Its keep is the most important both in terms of its appearance and its history, the marker of boundaries and witness to struggle. Another of the preserved towers that monitor the valley is the watchtower of Vizcable.
In the surrounding areas, a rosary of shelters bear witness to its prehistoric past with some particularly important documents: more than thirty stations with Levantine prehistoric rock art (10,000-6,500 years before present time): the shelter of la Hoz, the shelter of Viñuela, the shelter of los Ídolos, the shelter of los Sabinares...
Of these what stand out is the set in Solana de las Covachas with 200 depictions of archers, women and the classical fauna of this type of art (goats, deer, bulls and horses).
Also the Torcal de las Bojadillas, with hundreds of figures, as another great collection which preserves the expressions of belief in the last groups of hunter-gatherers. A figurative type of art with a unique execution technique, using birds' feathers and achieving the Levantine feather stroke, something which is unique in Western Europe.
Also, the Neolithic producer groups expressed part of this beliefs through paintings using abstract motifs (outlines, dots, blots...), the so-called schematic art (6500-3200 years before present day), of which the Nerpio area offers an excellent display. Amongst tens of others, those that stand out are: the Castillo de Taibilla shelter and those at Solana de las Covachas itself, in its 3rd, 5th, 6th and 9th shelters.
These prehistoric artistic expressions were declared Heritage of Humanity by UNESCO since 1998 under the conventional administrative name of the Iberian Peninsula Rock Art of the Mediterranean Arch.
These are some of the depictions that we can see under the sponsorship of the cultural park which has been purpose-built and which includes other visiting possibilities, such as the castle.
HOW TO GET THERE
A-30, C-3314, C-415, MU-703
Gallery
Nerpio
Nerpio
Nerpio
Nerpio
Nerpio
Nerpio
mas