Sentry of the Middle Ages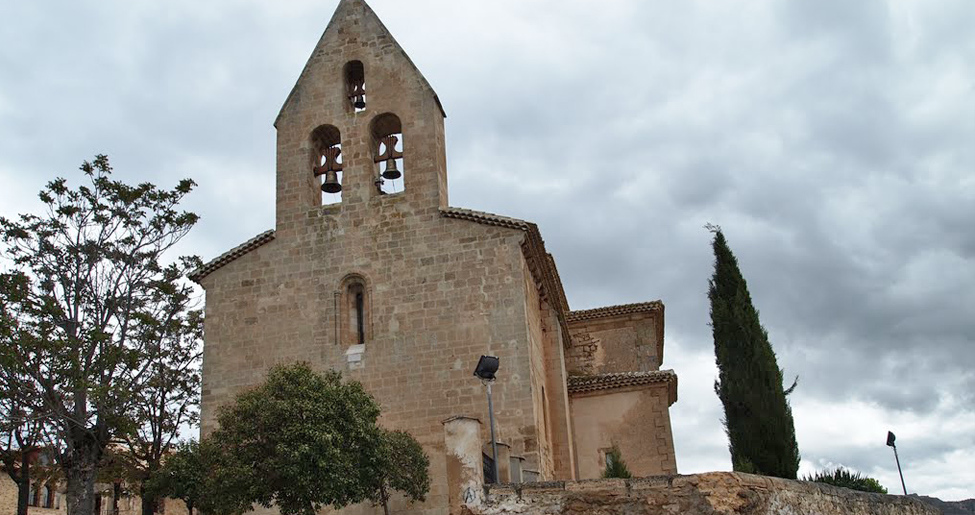 Visit
MAIN ATTRACTIONS
The hill upon which Albalate sits, is crowned by this church, a noble, and elegant medieval icon of Cuenca. The eaves fly over the loft of the meadow, held up by magnificent decorated brackets. Towards the town, the bell gable with three hollows allows the air pass among its bells and a narrow window bellow them whistles the entrance into a Romanesque temple, with a pointed barrel vault in a Cistercian style.
WHAT WE'LL SEE
The door, sheathed by pointed archivolts, leads us into the to church with a Latin cross floor plan, and well oriented according to custom, East-West. A small central nave, built with ashlar stone, contrasts with an enormous apse, which was replaced in the 17th century in order to widen it. The lateral chapels are covered by cupolas over pendentives; one of them houses the baptistery. Loophole windows give light and air to the interior, while outside the bell gable rises up, framed by the sky, long, pointed and with three hollows: one small at the top for a little bell and two twin ones for the other bells. From its vantage point, the bell gable catches our attention with this image, calls the people to worship, and sings the hours with its iron voice.
With a peculiar origin, it has its own legend: it is said that it was built by Don Gil de Albornoz when he was a Cardinal, from 1350 to 1376, in memory of his years as a parish priest in Albalate, but it seems improbable because of the purity of its style. Another version says that it was an individual sponsor who built it in 1185, and this one seems more plausible. Another curiosity is that, despite the adequate orientation of the temple, the doors are inverted because, contrary to what is usual, the main door is found to the North.
SCHEDULE AND ACCESS
Located at the highest part of the center of the town. Free entry all day.
Gallery
Nuestra Señora de la Asunción Albalate de las Nogueras
Albalate de las Nogueras
Albalate de las Nogueras
Albalate de las Nogueras
mas