The small plateau that enhances the plateau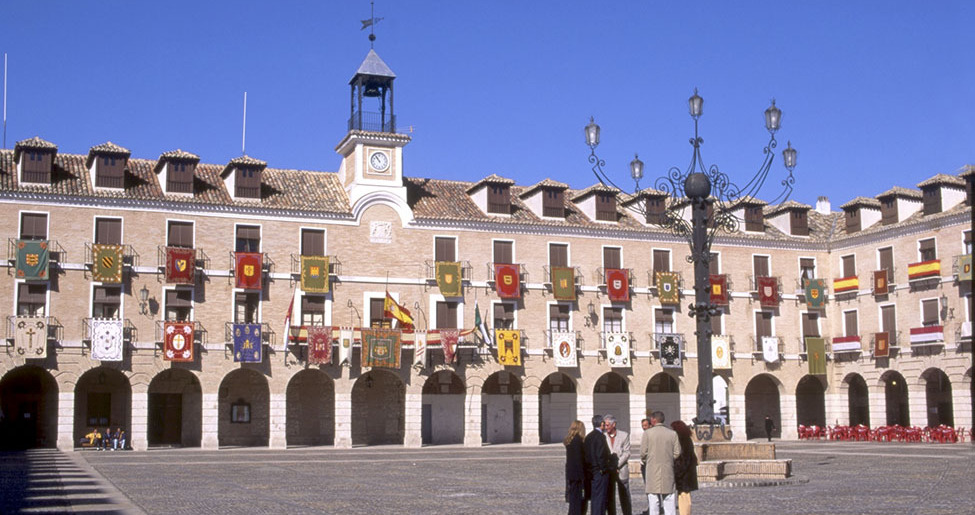 Visit
Ocaña is erected on the plateau in its own territory, La Mesa de Ocaña, which enhances it with landscapes, monuments, culture and history. The gateway of La Mancha, its urban warp treasures religious and civil legacies. Nuestra Señora de la Asunción and San Juan Baptista preserve the majority of the images and brotherhoods that give reputation to its distinguished Semana Santa Easter celebrations. The convents of Santo Domingo, the Carmelitas Descalzas and the Dominicas de Santa María compete for limelight in the wealth of their monasteries.
The civil works are dotted around its streets and highlight the importance that the town's activity gave to them at the time. The Cárdenas palace, its monumental Plaza Mayor square, the Rollo de Justicia pillory and the immensity of its fountains, such as the Fuente Vieja fountain or the Fuente Grande fountain, bear witness to the importance of its history and its political activity for centuries.
Its surrounding landscape has been heightened by the Asociación Comarcal Don Quixote initiative, that recovers old infrastructures for the tourism, creating a regional network of routes that can be accessed by independent sections or stages in order to acknowledge the setting and natural heritage of this area.
OPENING HOURS AND HOW TO GET THERE
Access: A-4 N-400
Gallery
Ocaña
Ocaña
Ocaña
Ocaña
Ocaña
Ocaña
mas