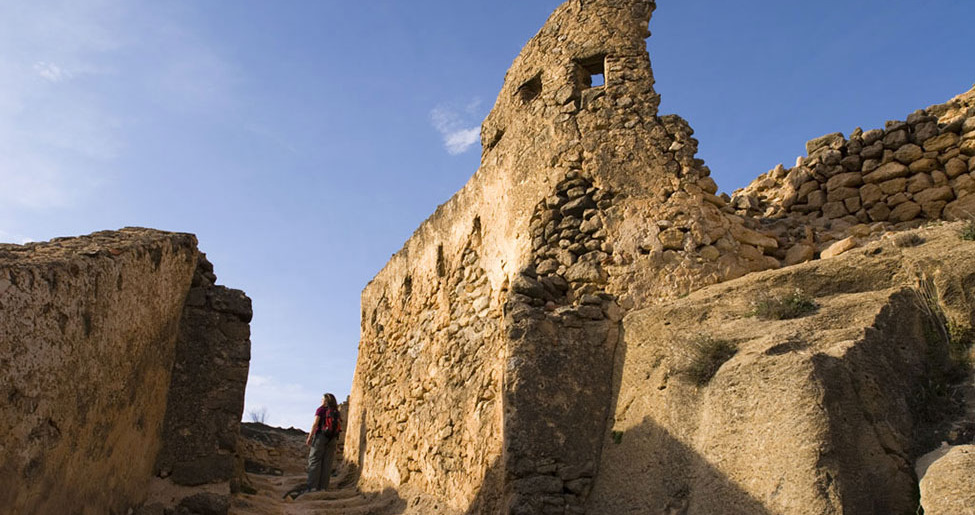 Visit
A stretch of rock that unfolds at the bottom of the hillside where today Peñas de San Pedro is found. On the frieze of the rock lays the old community crowned by a wall that goes down to the foothill bringing us into the present.
The old community was completely fortified as the crown of the previous crag, which descends the hillside. The wall sections are separated by towers and those on the slope are prepared for artillery. Given its strategic location, it has had different uses: as a fortress, as a punishment prison or barracks. In the 19th century, having lost all of its functions, the lower barracks were demolished.
Amongst the buildings in the community, the church of Nuestra Señora de la Esperanza stands out as a highly pure Murcian Baroque representation. The entire inside is a call to the virgin and its utmost splendour is in the dome where the holy virgins and martyrs are depicted.
In the parish subsidiaries, a collection has been put in place showing off a marble sculpture of Virgen de la Esperanza.  There are also Baroque carvings, canvasses and pieces of silver.
HOW TO GET THERE
CM-3203
Gallery
PEÑAS DE SAN PEDRO
PEÑAS DE SAN PEDRO
PEÑAS DE SAN PEDRO
mas