David Blázquez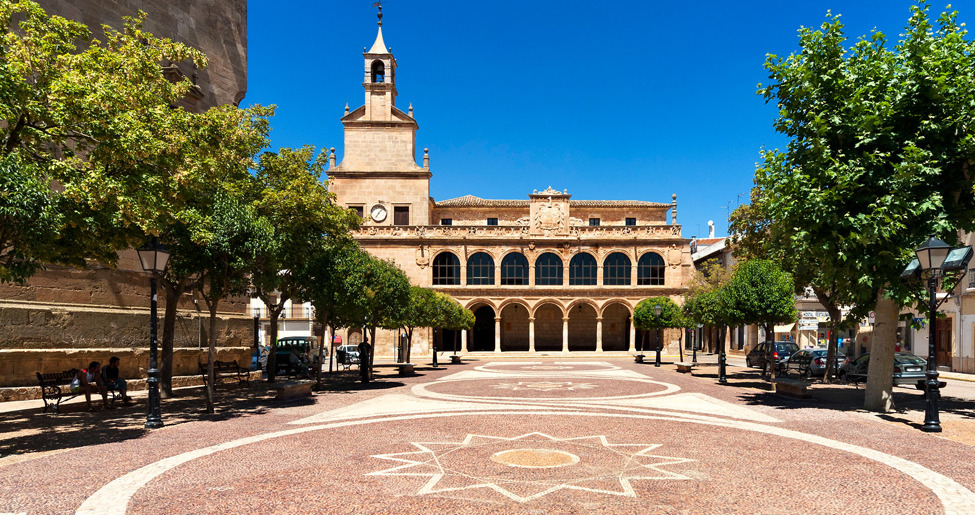 Visit
In the vast flatland of the La Mancha region lies San Clemente enveloped in arable land with some groups of pine trees dotting its landscape. Its countless heritage makes summarising this town quite difficult and once visited, it is impaled in your memory. San Clemente is a town to explore calmly with your senses open in order to enjoy every detail and the amazing stamp of its legacy.
Even knowing that in each category the account is left incomplete with notary absences, some brief comments are necessary.
The civil buildings call out for attention, from the old town hall with its impressive double-sectioned façade: a double rounded arcade on the first and beautifully-styled glass railings on the second. Next to it, lies the granary from the 16th century with a doubled-arched entrance and the shield of the Austrias family between pilasters. Connecting the church and the town hall is the Roman arch that, despite its name, is actually Baroque from the 17th century. The Santiago Apóstol church dominates the ensemble and makes people fall in love with it through its doorway under a great triumphal rounded arch that offers a barrel vault. The entrance is straight and framed, filled with beautiful features. Every part of the square is a milestone in its memory and of essential viewing.
The tour doesn't manage to include everything that the town offers; palaces, houses and chapels, and civil and religious buildings are offered along the way that will leave no one indifferent but eager to savour everything. Medieval and Roman bridges, the convents of the Franciscans or the Discalced Carmelites, the old prison; an infinite number of buildings and in each of which there are features and an invitation to discover them on the inside. All of this is wrapped in popular Manchegan structures and industrial buildings such as the Rus mill.
OPENING HOURS AND HOW TO GET THERE
Access: A-43
Gallery
San Clemente
San Clemente
San Clemente
San Clemente
mas