Reference to Jewish culture
David Blázquez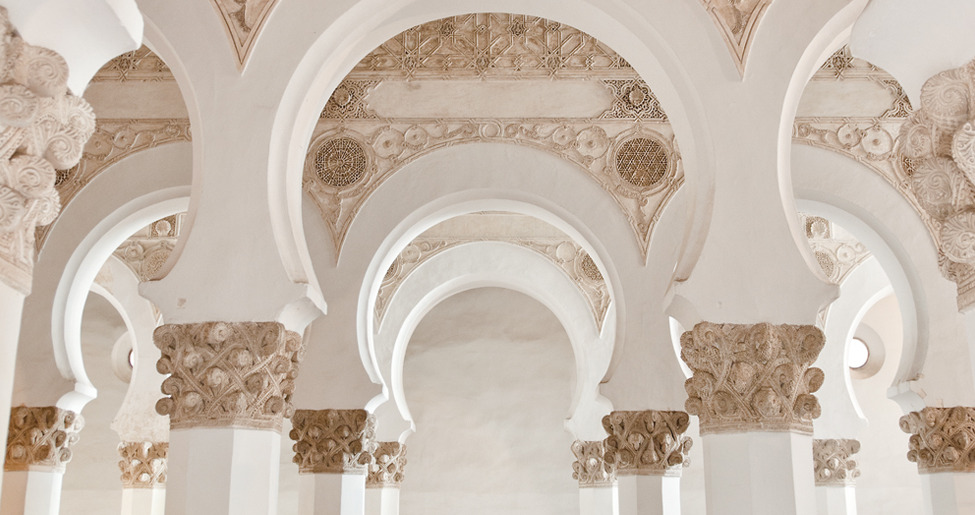 Visit
A global example for the construction of synagogues as its image.
It has a basilican structure of five narrow naves, oriented from East to West, being the central one higher than the others, and separated by arcades of large circular horseshoe arches, which indicates a Mozarab Christian influence.
The arcades of large arches are supported by brick octagonal columns with tiled plinth. On the arcades there are blind arcades of lobular arches decorated in plaster of vegetal motifs and geometric antiques, from Almohad unmistakable origins, whose knots form the star of David.
It is covered with a classic Mudejar coffered ceiling of larch. The armor of the central nave is framework with carved ornamental tops, being a product of the local art from Toledo artistic woodworking.
In Santa María La Blanca, the incomparable beauty of its thirty-two pilasters stands out above all, because of their capitals with ornamentation of pineapples stems and scrolls at a rhomboid composition, among which there is one that is equal to the other.
In the octagonal form of the pillars and the disposition in "sebka" or net in rhombuses of the capitals, we find once again the contribution of the Almohad art. In this work, a divergence between the brick structure of walls and pillars and the plaster decoration that covers it has been wanted to be seen as if they were products of different hands or something subsequent to the building, corresponding in such case to the works of restoration carried out  after the alluded fire in 1250. In both supposed cases, it is clear that the work was carried out by Muslim stone-carvers and master builders, and it is not, therefore, a Jewish work.
However it may be, it seems like that it was built to meet the needs of the cult of a flourishing community because of the influx to the city of Jews from Al-Andalus after the Almohad invasion.
TOURIST BRACELET
This monument is within the offer "Tourist bracelet", with which you can visit 7 monuments at the price of €9. These monuments are: Santa María la Blanca Synagogue, Cristo de la Luz Mosque, The Burial of the Count of Orgaz, Salvador Church, Jesuits Church, San Juan de los Reyes Monastery and Doncellas Nobles School.
You can expand the information at http://www.toledomonumental.com
TIMETABLES AND PRICES
Open from Monday to Sunday.
From March 1st to October 15th, from 10:00 to 18:45 h.
From October 16th to February 28th, from 10:00 to 17:45 h.
Closed on January 1st and December 25th.
General: €2.80
Reduced: €2.40
For free: children up to 10 years; residents in Toledo proving it. 
Gallery
Sinagoga Santa María la Blanca
Sinagoga Santa María la Blanca
Sinagoga Santa María la Blanca
mas