David Blázquez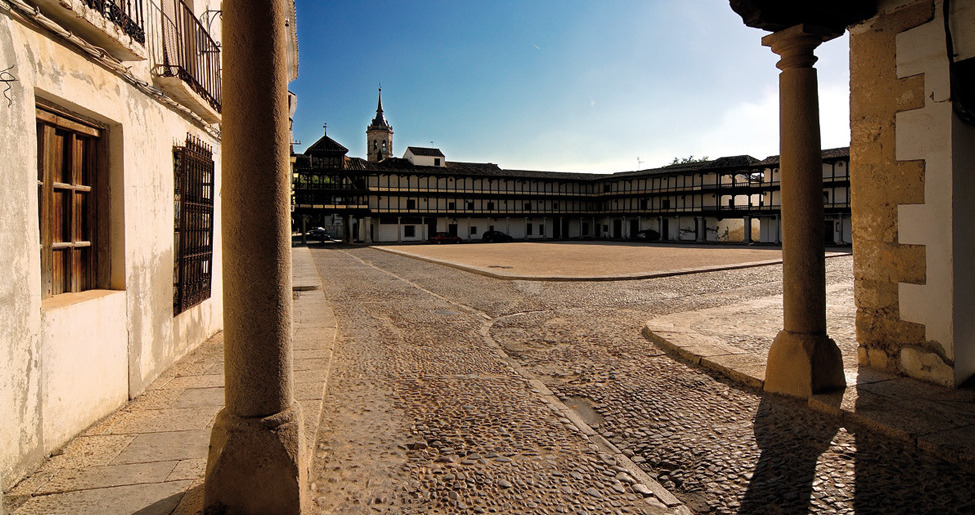 Visit
Tembleque is the most characteristic representation of a Manchegan town: the white lime shines on its façades and the sun bounces of them, giving us a bright white reflection.
The bearer of one of the most picturesque and characteristic squares; it is an emblem of traditional Baroque style from the 17th century. The plan of the open-air comedy theatres continues and it is home to mostly bull fighting events. One of its three doors was used for holding bulls as well as access. The square is an arcade with Tuscan columns and square pillars at the entrances. The two upper sections are corridors, held up by wooden pillars, whitewashed façades and the parapets are decorated with St. John's cross. The tower stands out, which acts as a balcony for the authorities during celebrations.
The main square is connected to the Plaza del Orden square through a passageway and here is the church of Nuestra Señora de la Asunción in a transitional Gothic style. Other religious monuments adorn Tembleque, such as the chapel of the Purísima Concepción, the chapel of Loreto or the chapel of San Antón, but the one that stands out the most is the incredibly beautiful chapel of La Vera de la Cruz, built in 1762 over octagonal grounds and covered by a dome with eight curved parts.
Of its civil constructions, there is the house of the towers - named as such because of the towers that frame its front) which doesn't ruin the characteristic whiteness of Tembleque that covers the façade amongst its multiple windows and the rich decoration of the door. The poststation is in keeping with the Manchegan style and reminds us of what is most typically sold in the area.
The image of the windmills filled with Manchegan character leads us away from the community and apart from nostalgia, creates within us the memory of literary narratives of knights and giants.
OPENING HOURS AND HOW TO GET THERE
Access: CM-42
Gallery
Tembleque
Tembleque
Tembleque
Tembleque
Tembleque
mas