David Blázquez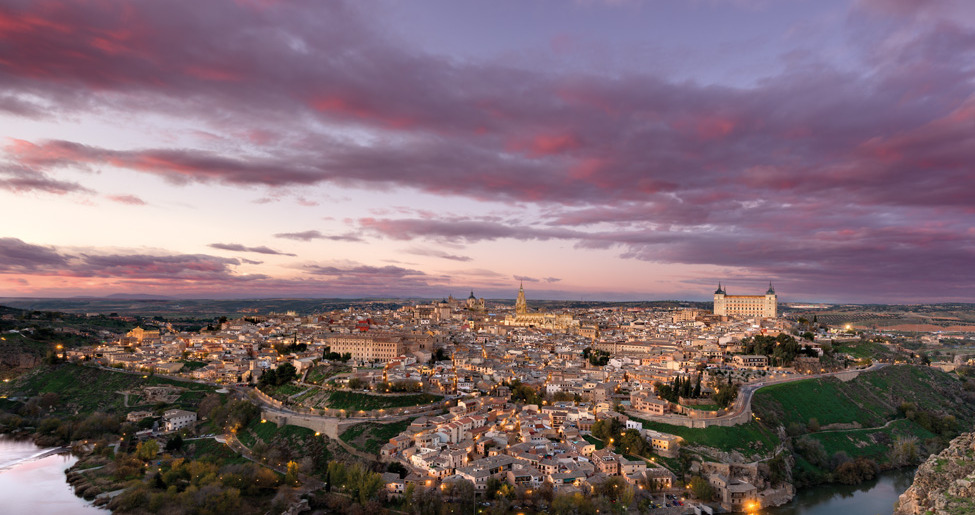 Visit
Toledo, declared Heritage of Humanity, doesn't allows us to choose between the sources of its culture and its history: all of it is a mixture of eras and settlers, cultures and religions, all of the styles are in its monuments, all of the secular activities are represented in it and a visit enhances our soul, intelligence and culture. Toledo leaves no one indifferent and it becomes impaled in our memory as a place we must always go back to and that we will never fully get to know.
Embraced by the bends of the river Tagus, its geographic location hangs onto the causes of it longstanding importance. Man always found a place of strategic immunity on the bends of the Tagus to settle. High up and surrounded by the natural trench of the river, it leaves no doubts as to its defensive and patrolling location. Therefore, some of the important monuments are related to its military structure: the citadel, the walls or the San Servando castle.
Toledo rises up as a tolerant city that understood being chosen by the different communities that populated it and it was able to respect their moves, still preserving important traces today that have granted it the nickname of the City of the Three Cultures.
The brief narrative focused on pointing out a few places yet not excluding those that do no way deserve to be offended, it ends how it started, narrated by the visitor that there are ten Toledos to see: the Toledo of Greco, nocturnal Toledo, artisan Toledo, Jewish Toledo, literary Toledo...The city invites you to come and calmly savour the fabric of its past, in the modernity of its present, which offers us multiple possibilities to spend more than a day there and even so, want to return.
OPENING HOURS AND HOW TO GET THERE
Access: A-42
Gallery
Toledo
Toledo
Toledo
Toledo
Toledo
mas