The slag heap of La Mancha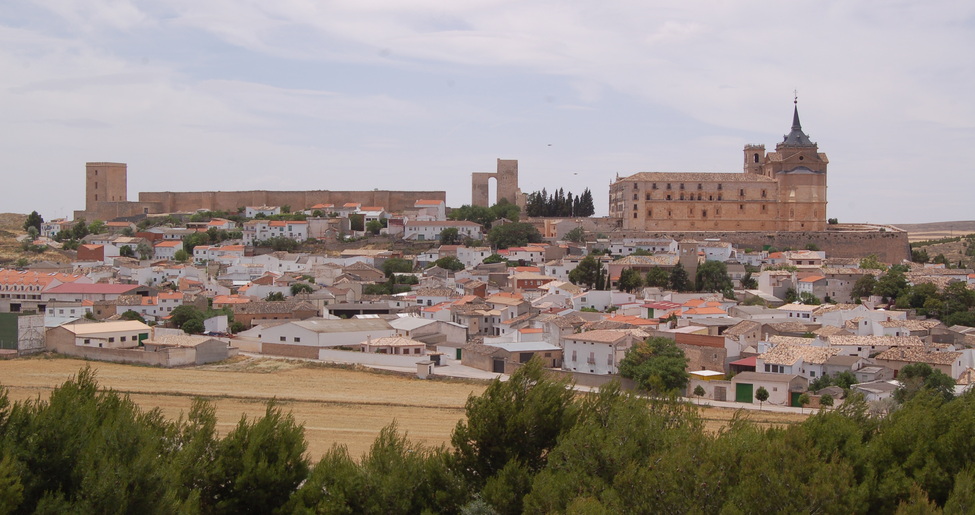 Visit
Uclés lies at the foothills of the of Altomira mountains in a landscape that is populated by small hills and plateaus that give an uneven appearance to this corner of La Mancha. Its urban centre is determined by the hill's smooth gradient, crowned by the monumental castle of Arab origin and restructured after the conquest. There are only three towers remaining from the old fortress, one of which is the watchtower, a stretch of wall and the Puerta del Agua gate or Arco de la Fuente arch.
Many features make Uclés the typically Castilian community that it is, with Arab relics, Jewish traces and Christian structure with all of the styles being represented. The manor houses, of which the house of Pareja and Cedillo, the palatial house of the Torres family or that of Fernandez and Contreras stand out. The old granary and the town hall also stand out within the works of civil architecture. The old Fuente de los Cinco Caños fountain, across from the Puerta del Agua gate has a social and aesthetic importance, given that it has been the traditional meeting and resting point Uclés.
However, without a doubt, the point of reference and identity of Uclés is its incredible monastery which dominates the skyline, giving it its nickname and it hides an architectural and artistic gem between its walls which has no equal in the region.  Built upon a Gothic church on square grounds and inside with an imposing cloister of two heights and ten panelled bays, each of its features makes an impact. The east-side is in a Plateresque style and the west-side is Herreran with a spectacular Churrigueresque doorway. Inside, there is a magnificent stairway under an oval dome on pendentives decorated in a shell shape. The Plateresque vestry, the coffered ceilings of the refectory, vaults, windows, archways...the Monastery of Uclés does not tolerate being summed up; each feature that is not included in the story is a lack thoroughness and respect that this building deserves and it can only be satisfied with the tours and admiration of its visitors.
OPENING HOURS AND HOW TO GET THERE
Access: A-3 A-40  N-400
Gallery
Uclés
Uclés. Puerta del Agua.
Uclés
Uclés. Fuente de los cinco caños.
Uclés. Fuente de los Cuernos
Uclés
Uclés
Uclés
Uclés
Uclés
Uclés
mas