The hill at the river banks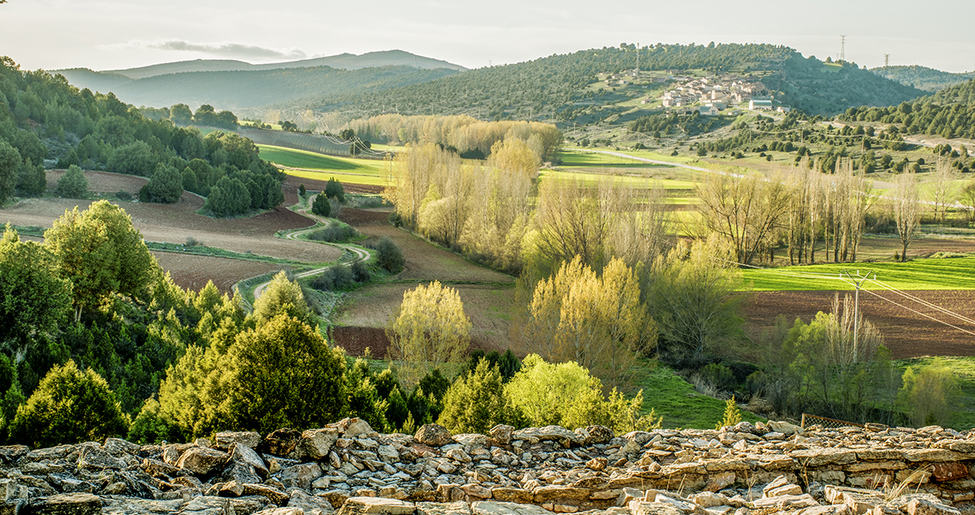 Visit
The Sauco river comprises at its banks a series of fortifications and following this path we discover Castro de Ceremeño. This Celtiberian settlement is located on top of a small hill, aiming to take advantage of the most fertile lands for farming.
We can see the wall of ashlars and slabs of limestone that surround a great part of the hill's perimeter. The excavations that have been carried out show the disposition of certain architectural elements from its two occupations, with the classic central street-space model with the houses located in such a fashion that they back onto the wall and their front door leads out to the busy urban centre.
The houses are between 30 and 50 square-metres in size with two or three rooms inside and a big hall where it is believed that a small storage room was kept and they gathered around the fire.
The volume of ceramic pieces has shown millets, acorns, wheat and barley which tell us about the staples of their diet. The tour will leave us with the feel of a remote past and a memory reconstruction of these old dwellers amongst what we see, what has been researched and what we can imagine.
HOW TO GET THERE
N-211 road Km. 51. Herrería, Guadalajara.
• Castro Archaeological Site: permanently open, well-signed and prepared for visitors. You can follow the explanation about the site using the signs throughout the tour.
• Necropolis:  A reconstruction which you can visit in the town hall square in Herrería.
• Monographic museum.
For more information, contact the Association of Friends of the Museum of Molina, calling 949 831 102. 
Gallery
CEREMEÑO VISTA AEREA
CEREMEÑO NECROPOLIS
CEREMEÑO POBLADO
CEREMEÑO TORRE
CEREMEÑO URBANISMO
CEREMEÑO MURALLA 1
CEREMEÑO MURALLA
mas