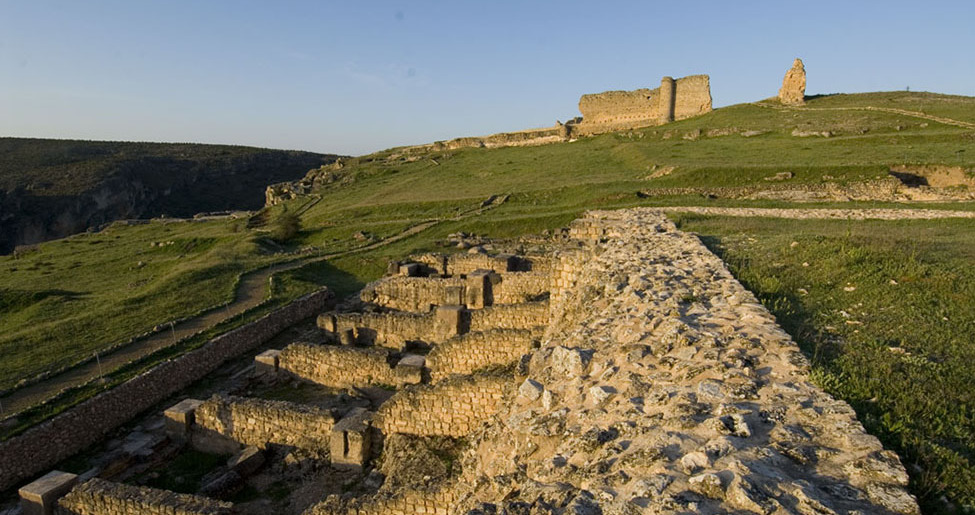 Visit
An elevation in the terrain between the river Gritos and the river Zahorra dominates the landscape of the Cuenca plateau. This was the place that the Romans chose to build Valeria, which is presented to us as a gem of Roman-Hispanic urban construction. Inside, we can see all of the essential features of Roman planning.
Well connected to Ercávica and Segóbriga along the Complutum road to Carthago Nova, it is also an example of engineering with its perfect section for water provisions, aqueducts that were adapted to the route or excavated, poured into wells, and the pièce de résistance of the complex is the Ninfeo; a monumental fountain with annexes built on one of its flanks, as well as shops and workshops.
In the middle of the site is the forum; one of the most comprehensive of the plateau. The Plaza del Foro square is surrounded by public buildings such as the Basilica, the Prebasilical buildings or "Domus Publica", the Exedra building, which acted as an imperial cult, the Cryptoporticus. The entrance to the square was to the south, up a great monumental staircase and past a number of taverns and shops.
The houses are grouped into two rectangular types on a terrace and other are called "hanging houses", with open gaps in the cliff which restricted the city on one of its sides, with beams incrusted in the rock, leaving half of the house hanging in the air. They are what came before the famous hanging houses of Cuenca.
Valeria is ultimately the city where Rome surfaced in its structural, architectural, communicational and engineering splendour in this privileged area in Castile. It is an essential and delightful visit.
HOW TO GET THERE
It can be freely visited. It takes between 30 minutes and 2 hours and throughout the tour there are explanations and information with archaeological and environmental content.
Telephone number: 618 649 030.
Gallery
Yacimiento Arqueológico Valeria
Yacimiento Arqueológico Valeria
Yacimiento Arqueológico Valeria
Yacimiento Arqueológico Valeria
Yacimiento Arqueológico Valeria
Yacimiento Arqueológico Valeria
Yacimiento Arqueológico Valeria
Yacimiento Arqueológico Valeria
Yacimiento Arqueológico Valeria
mas