The great city of the knights of Calatrava
David Blázquez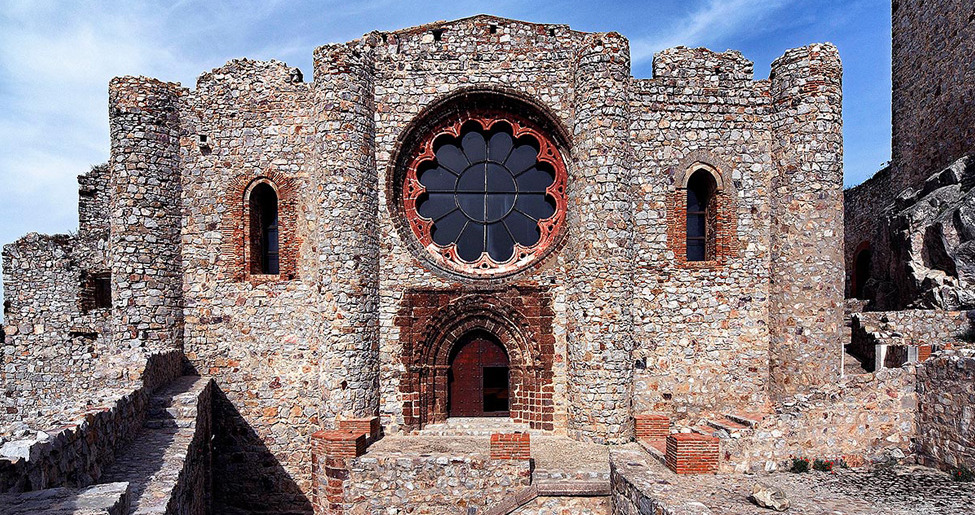 Visit
We are in the great fortress of the knights of Calatrava, the property of which would be defended against the Muslims of the nearby Castle of Salvatierra. Although it was a fortress in the Bronze Age, Visigoth era and there is news of its use by Nuño de Lara in the 12th century, it hit its peak after the battle of Navas de Tolosa.
Today we can tour its pathways, the rooms of its castle, patios, towers and stairways and a reservoir. Also, its 13th century convent preserves a great door with a rosette, the "Estrella" door, the chapter hall, refectory and kitchens, as well as a cemetery. The ancillary area of craftsmen, lodgings, stables and wine cellars complete this magnificent narrative of life in the Middle Ages. 
The great fortress, more than 45,000 square metres big, was erected to be the headquarters of the order, which substituted the city of Old Calatrava. Its church, convent, inn and outside premises, surrounded by fortifications, made up a true medieval fortified city.
HOW TO GET THERE
For information about opening times and guided tours, visit the website.
Telephone number: 926 69 31 19
Gallery
Parque Arqueológico Sacro Convento y Castillo de Calatrava la Nueva - Caminos Felipe II
Parque Arqueológico Sacro Convento y Castillo de Calatrava la Nueva - Defensas
Parque Arqueológico Sacro Convento y Castillo de Calatrava la Nueva - Defensas
Parque Arqueológico Sacro Convento y Castillo de Calatrava la Nueva - Defensas
Parque Arqueológico Sacro Convento y Castillo de Calatrava la Nueva - Murallas
Parque Arqueológico Sacro Convento y Castillo de Calatrava la Nueva - Vista general
Parque Arqueológico Sacro Convento y Castillo de Calatrava la Nueva - Arcos
Parque Arqueológico Sacro Convento y Castillo de Calatrava la Nueva - Bóveda
Parque Arqueológico Sacro Convento y Castillo de Calatrava la Nueva - Puerta de la Estrella
Parque Arqueológico Sacro Convento y Castillo de Calatrava la Nueva - Ventanas
Parque Arqueológico Sacro Convento y Castillo de Calatrava la Nueva - Detalle Puerta de la Estrella
Parque Arqueológico Sacro Convento y Castillo de Calatrava la Nueva
mas