Secluded to the peace of these deserts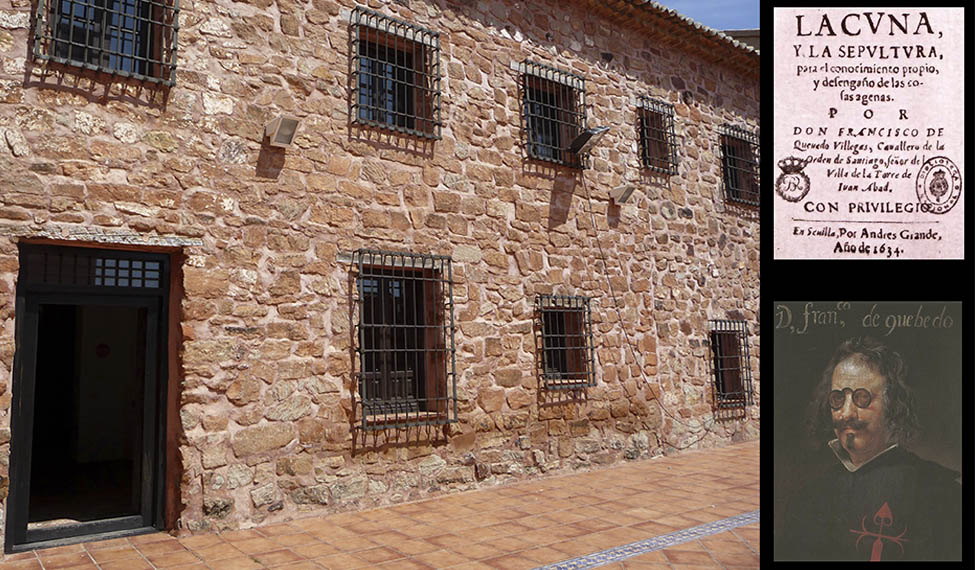 The body of work and figure of Francisco de Quevedo y Villegas is as inseparable from literature and politics as it is from la Torre de Juan Abad, a town of Ciudad Real whose fiefdom his mother bought with all her savings before dying. Exiled here, he wrote reflections on the work of the philosopher Seneca, as well as composed some of his greatest poems and notable works on politics.
With Philip IV's ascent to the throne, Quevedo was pardoned, even becoming, in later years, the king's secretary, until another fall from grace forced him to definitively move away again, first in la Torre de Juan Abad, and later he died in the Dominican monastery in Villanueva de los Infantes.
FIRST TRIP TO LA TORRE DE JUAN ABAD
In a poem called "De ese famoso lugar" (From that Famous Place), Quevedo tells us of his trip on his mule Escoto. He left Madrid and arrived to Toledo, where he was surprised by the Artificio de Juanelo - an engineered hydraulic system that is now gone - and impressed by the Puerta del Cambrón (Gate of Brambles), through which he headed to La Mancha.
Vi la puerta del Cambrón; que, a lo que yo me barrunto, a faltar la primer eme, fuera una puerta de muchos.
"I saw the Puerta del Cambrón; which, as far as I can tell, leaving out the first M, could be the gate of many." (Cambrón without the M is cabrón, which is a strong insult in Spanish).
HIS HOUSE IN LA TORRE DE JUAN ABAD
The relationship the writer had with the town was controversial. He arrived there exiled, without money, and against his will. And the local council did not recognize his status as Lord of the fiefdom until after his death.
Aquí cobro enfermedades, que no rentas ni tributos, y mando todos mis miembros, y aun de éstos no mando algunos.
"Here they pay me in illnesses, not rent nor tribute, and I govern over my subjects, and of these, I govern over none."
The passing years have restored him as one of the greatest literary figures of the Golden Age. His house in la Torre de Juan Abad, with his inkwell, the chair in which he wrote, and numerous and interesting documents, is a museum dedicated to his name.
DEATH IN VILLANUEVA DE LOS INFANTES
Quevedo would return to la Torre de Juan Abad, after his second fall from grace in the courts, and eventually died in the monastery of Saint Dominic, in Villanueva de los Infantes, where the room that he occupied is still preserved.
Gallery
Celda de Quevedo
Estatua en Torre de Juan Abad
Silla de Quevedo - Torre de Juan Abad
Villanueva de los Infantes, Plaza Mayor
Quevedo
mas