Saint Teresa of Ávila (Santa Teresa de Jesús)
Imprint of faith forged in Toledo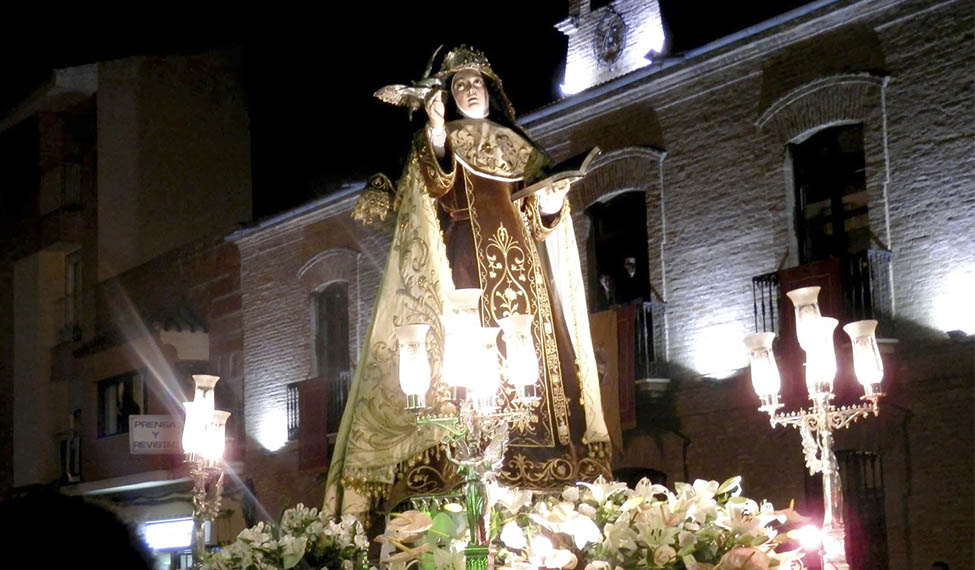 The city of Toledo had a fundamental importance in the development of work and life of Saint Teresa of Jesús, also known as Saint Teresa de Ávila. There, she encountered such fundamental influences such as that of father Báńez, her spiritual director, and that of friar García de Toledo, both Dominicans. The inspiration that she received in Toledo would later leave its mark in Pastrana (Guadalajara), Malagón (Ciudad Real), Villanueva de la Jara (Cuenca), and in the places through which she passed founding and visiting convents, like in la Torre de Juan Abad (Ciudad Real).
IN THE PALACE OF DOŃA LUISA DE LA CERDA IN TOLEDO
Saint Teresa accepted the Toledan hospitality of, at that time, one of the greatest women in Spain.  This woman would have an important influence on the saint since, living with her, she had the opportunity to understand the obligations of power and wealth, which she would be inspired to reject as forming part of an ecclesiastic life. However, De la Cerda also introduced Saint Teresa to Toledo, and prominent people came to meet the nun who levitated and had visions, promoting understanding regarding her Carmelite reform, and the establishment of convents.
Nowadays it is possible to visit this palace in Toledo, known as Casa de Mesa. It is a gothic-mudejar building from the 15th century, and in it, there is an admirable mudejar hall preserved.
FOUNDING OF THE CONVENT OF MALAGÓN, CIUDAD REAL
St. Teresa's reform proposed a hard life, dedicated to prayer and self-deprivation. She, like her nuns, was required to sleep on a simple straw mattress, wear leather or wooden sandals, fast eight months a year, and never eat meat.
The first place in Castle - La Mancha in which she established this reform of Carmelites, and the third convent founded by the saint, was that of Saint Joseph, in Malagón, in 1562.
Saint Joseph is not just any convent, rather it was built from nothing, with the direct participation of the saint in its design. The result is as austere and functional as the spirit of her reform. In its interior, there are figures of the saint, the one in what was her room being especially venerated, that are taken out in processions on certain days.
THE PRINCESS OF ÉBOLI AND THE CONVENT OF PASTRANA
After residing in her new convent in Malagón, Saint Teresa fell ill and went back to Toledo and Escalona del Alberche. Once she recovered, her momentum carried her on, taking possession of a convent in Pastrana.
It was not a simple undertaking. The person who sponsored it and paid the costs was none other than the combative princess of Éboli. At that time she was not yet imprisoned by Philip II, but already possessed a great determination and legendary beauty. She wanted to be a nun, and Saint Teresa reluctantly accepted her.
But the princess of Éboli, Duchess of Pastrana, was not prepared for the privation of convent life. First she abandoned her room, then she took back her jewels and dresses, and finally, it was Saint Teresa, with her nuns, who opted to leave the convent.
Today we can visit the convent of Carmen de Pastrana and enjoy its museum of Saint Teresa in one of the most relevant historic-artistic complexes of Castile - La Mancha.
THE JOURNEY SOUTH
One of the most accidental trips Saint Teresa took as she headed south, in which she ended up getting lost in the Sierra Morena, occurred in Castile - La Mancha.
Leaving from Toledo, she passed through Sonseca, Los Yébenes, Urda and Fuente del Fresno until arriving at her convent in Malagón. From there, during Carnival time, she went through Daimiel, Manzanares, La Solana and Villanueva de los Infantes until arrive at Torre de Juan Abad. Here, she received the ashes of Ash Wednesday, arriving at the beginning of Lent.
HER FRIEND ANA DE SAN BARTOLOMÉ AND THE BOOK OF FOUNDATIONS
The woman who was Saint Teresa's close friend, secretary, and supporter was born in Almendral de la Cańada, Toledo. She was the first lay sister that the saint admitted into her reformed Carmelite order. With time, Saint Teresa of Ávila came to consider her as her spiritual heir; and it wasn't in vain, given that Ana would extend the order throughout France and the Netherlands.
The city of Toledo, which was always the place where Saint Teresa recovered from wounds, both physical and spiritual, was where she wrote her Book of Foundations, and suffer the persecution by the Inquisition against her order.  
HER CONVENT IN VILLANUEVA DE LA JARA, CUENCA
Persecutions, age, and illnesses couldn't stop Saint Teresa, who, in 1580, founded her thirteenth convent in this town in the province of Cuenca. The building's interior preserves valuable paintings from the Golden Age and a spectacular mudejar ceiling.
The town of Villanueva de la Jara is one of the relevant historic-artistic ensembles of La Manchuela, with numerous noble houses, attractive with their balconies, iron bars, and coats of arms.
Gallery
Santa Teresa Malagón
Los Yébenes
Malagón
Palacio de P. de Ébol
Sonseca - San Pedro de la Mata
Urda
Villanueva de la Jara
Santa Teresa de Jesus
mas