Mouflon from Castile-La Mancha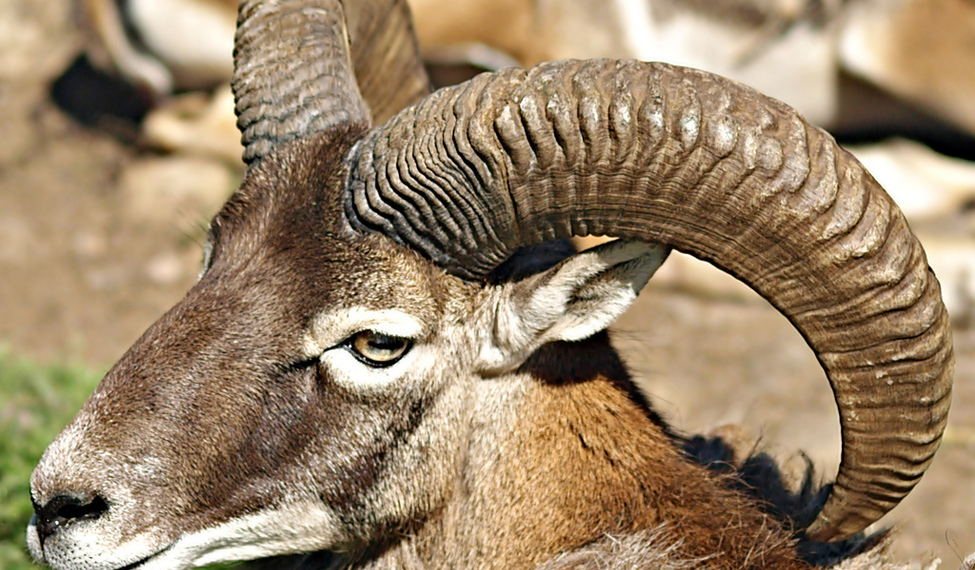 TROPHY CHARACTERISTICS
In males, the horns grow throughout the whole specimen life span, with a spiral development. The protrusions on them, called "annuli", mark the stop in horn growth, which occurs during wintertime. This allows age measurement until the animal is seven or eight years old. Then the age indication is the facial patch, which reaches the eyes when the animal is five or six years old and surpasses them when it is ten, being called "mask" in older animals.
Females also have horns but they are smaller and do not twist. 
The mouflon trophy is measured by horn dimension, beauty and annuli. The dimension is measured from the base of the sheath to the tip, and the space between horns does not score. Their beauty depends on the shade, the blacker the shade the higher the score. The annuli score higher if they are closer to each other instead of further apart. Various reasons to penalize the trophy value are broken horns at the tips, if they twist inwards instead of outwards, or if they are asymmetrical. 
HaBITAT DISTRIBUtIoN
Native to Corsica and Sardinia, it was introduced in Spain and nowadays is present in Ciudad Real, Toledo and Cuenca. 
HUNTING SEASON AND MODALITIES
Its hunting is allowed from October to the end of winter, with game hunting, beating and spot and stalk.
COTOS WHERE TO FINDMOUFLON FROM CASTILE-LA MANCHA
Gallery
Muflón
Muflón
Muflón
Muflón
mas