Dances, costumes and verses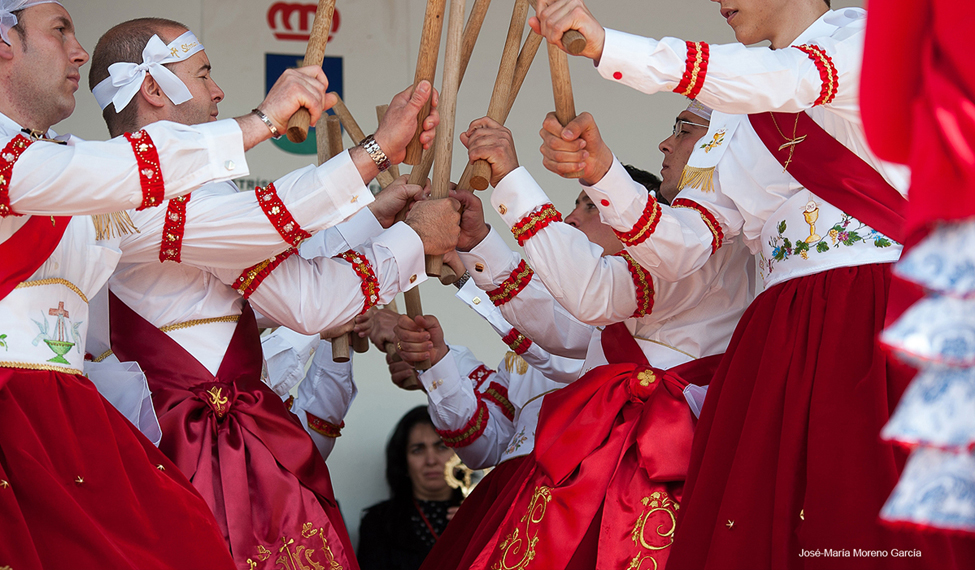 Description of the party
An impressive, colorful festival due to the costumes of the dancers, who take more than two hours to dress. Among their many costume pieces the most attractive are the red, velvet skirts with golden stars, and the sash, a grand embroidered bow, gathered tightly at the waist, with ribbons that cross the back.
Dressed in this way, on the first of May the dancers perform the first dance in the church, the Royal March, in front of theCristo de la Vigafigure. Afterwards, in the auditorium of the Glorieta del Prado, they perform traditional dances. For example, in the dance of the sticks the dancers, armed with hitting sticks, simulate fighting.La Valencianais performed with castanets. In the dance of the rope the dancers, each holding a ribbon, interweave themselves around a central pole of three meters, forming a rope. Together with the dances they recite poems and satiric verses against the authorities and the ages.
In the afternoon procession they repeat the dances throughout the duration of the festival.
Festival of Regional Touristic Interest.
DATES OF CELEBRATION:
27th of April to 1st of May.
SUGGESTIONS:
The dances are performed from the 27th of April to the 1st of May, although the last one is the most impressive. The city council provides visitor information at this number: (+34) 925 160 428.
Gallery
Cristo de la Viga
Cristo de la Viga
Danzantes y Santísimo Cristo de la Viga de Villacañas
Danzantes y Santísimo Cristo de la Viga de Villacañas
mas