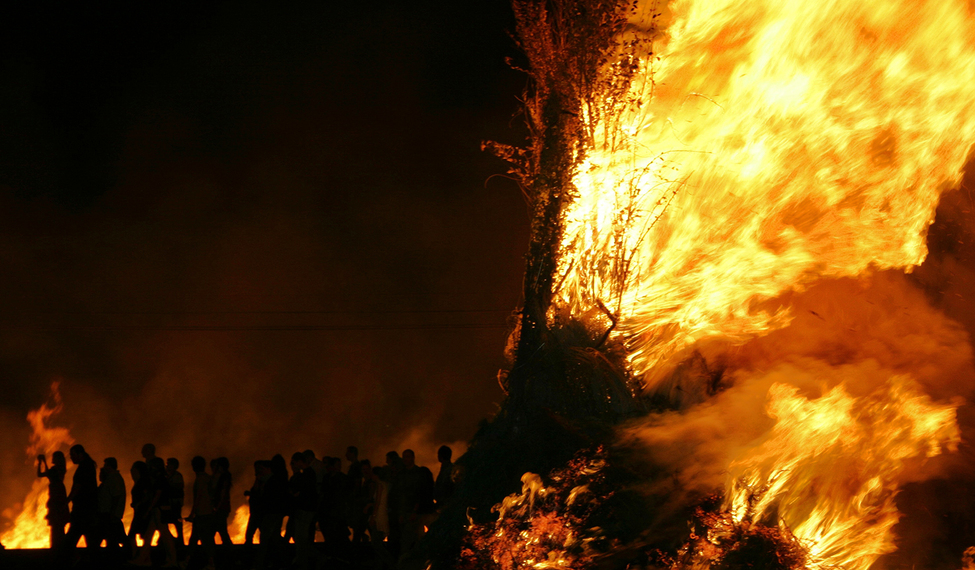 Description of the party
Along the 2 kilometers and a half this procession covers, a fire path is set when the Peñahora Virgin passes by, who goes down from her shrine to the village. The night falls over the lands as the image and the people taking part move forward, thus creating an atmosphere as mystic as it is magic. Big huts, built by the locals, keep being lit. As they approach the village, next to the petrol station, the Virgin is welcomed with the Peñahora hymn, followed by fireworks and a grand floral offering. Finally, a cordon of sparklers, at the final stretch to the church, bid the procession farewell.
Festivity of Regional Tourist Interest
DATE OF CELEBRATION:
Movable date. On the second Saturday in September.
SUGGESTIONS:
The procession starts around 8:30 in the afternoon, but the entry road to the Peñalora hermitage, CM-1001, between Humanes and Cogolludo, is closed to traffic beforehand. If you would like to accompany the Virgin, it is best to be there one hour in advance, although it is not recommended for people with breathing difficulties, due to the great amount of smoke. Many visitors prefer to wait at the outskirts, next to the petrol station, for the Virgin to come, and watch over the distance the fire trail that goes along with the procession.
Gallery
Fuego Humanes
Fuego Humanes
PROCESIÓN DEL FUEGO DE HUMANES
mas