David Blázquez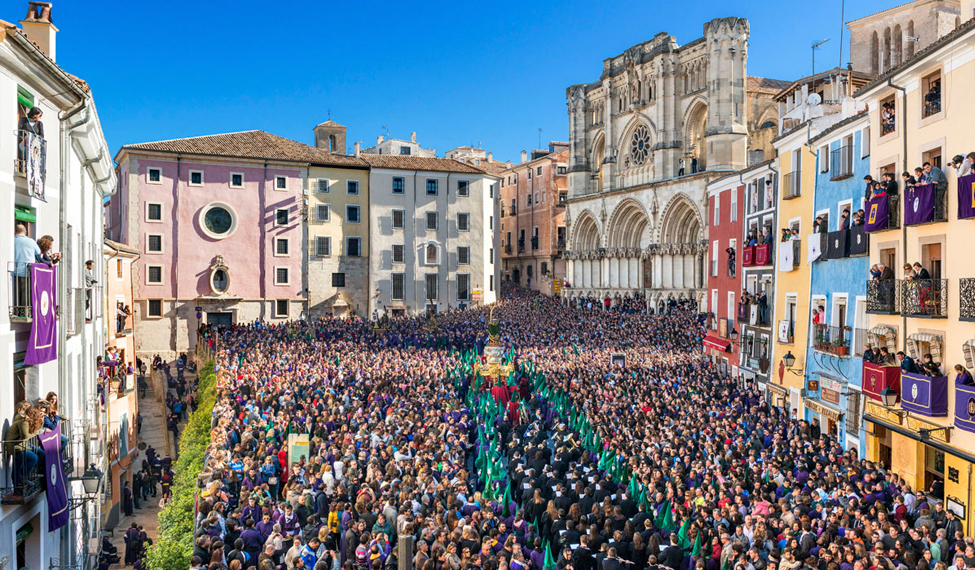 Description of the party
Easter is Cuenca festivity par excellence. Declared of International Tourist Interest, it is impressive because of its great beauty.
Easter celebration in Cuenca gains a special prominence because of the medieval urban layout of the Old Town, which turns into a spectacular stage that takes us back to former times. The processional parades are especially beautiful at night.
Processions one after the other from Palm Sunday with La Borriquilla (the little donkey), accompanied by palm and olive branches, and Nuestra Señora de la Esperanza (Our Lady of Hope) pace; the True Cross Procession on Monday, Forgiveness one on Holy Tuesday and the Silence one on Wednesday. The most important days are Holy Thursday, with Peace and Charity processions; and Good Friday, with three processions: at dawn Way to the Calvary, at noon, In the Calvary, and at sunset, the Holy Burial. The last procession during Easter in Cuenca is The Resurrected, onEaster Sunday.
Being so deeply rooted among Cuenca citizens, the Way to the Calvary procession stands out, popularly known as the Turbas (mobs), on Good Friday at night. This procession leaves no one indifferent: the mobs appear like "actors" in charge of playing the mockery Jesus suffered in the way to the cross. During the itinerary there are moments of turmoil to the beat of the drums and bugles that contrast with other ones of complete silence, such as when the Miserere is sung at the stairway of San Felipe Neri church.
SUGGESTIONS:
To know in depth the programme and ticket availability for the Cuenca Sacred Music Week: http://www.smrcuenca.es
For itinerary and times of the processions:  http://www.juntacofradiascuenca.es
To know more about Las TurbasProcession:  http://www.turbascuenca.com
Gallery
Semana Santa Cuenca 1
Semana Santa Cuenca 2
Semana Santa Cuenca 3
Semana Santa y Semana de Música Religiosa de Cuenca
mas